Top Stories
Cricket World Cup 2023: England's dismal World Cup is Rob Key's biggest challenge
Reputations take years to build and moments to destroy.
From the embers of the 2015 World Cup, England built themselves to become the most feared white-ball outfit on the planet. As for the moment the aura was ripped apart, take your pick. There are plenty to choose from a dire month in India.
The defence of the trophy won four years ago has been a greatest hits of English cricketing capitulations. Selectorial indecision, a key injury, a howler at the toss, a retirement. It's all been there. At one stage, the players weren't even all wearing the same kit.
How fitting it is that Australia, the oldest and fiercest foes, can deliver the mortal blow in Ahmedabad on Saturday. Keep your moral Ashes and silly dictionary definitions, we'll knock you out of the World Cup instead.
Another English tradition at these times of national mourning is the inquest. The same debate, usually about a schedule, is reheated. Someone gets sacked and someone else is hired to carry out a review that will be delivered around about the time results have already improved.
The simple idea that a group of talented players have collectively and spectacularly underperformed for reasons beyond even their comprehension is given short shrift. Blame must be apportioned.
On this occasion, the hunt for answers is in danger of turning us all into a bunch of Captain Hindsights. Even if there were doubts over England retaining the trophy, most had them making the semi-finals at least. Take a look at these predictions from the Test Match Special team (yes, I'm aware of what I wrote) and our colleagues at Sky.
Taken in isolation, the issues highlighted as England have slowly fallen apart are clear and understandable, but barely anyone put them together to see the iceberg. There is a question over whether coach Matthew Mott should have done – he didn't lead England in a single game between 14 March and 31 August, so had plenty of time for planning – and the Australian has come under fire.
And so, once again, the domestic set-up has come into focus. As usual, the county game is under-praised when England do well and over-criticised when they don't.
Pretty much everyone with the most passing interest will know that the structure is sub-optimal. Yes, four competitions is too many and no, it is not ideal that 50-over cricket has been sidelined because of The Hundred, not that we are here to debate the merits of English cricket's answer to Marmite.
At this stage it is worth remembering that Sir Andrew Strauss' high-performance review – see, I told you there's usually review – recommended more than two years ago a structure that included a full-strength 50-over competition at the beginning of the summer. It has since been rejected by the counties and described as "dead in the water" by the England and Wales Cricket Board.
The lack of domestic 50-over cricket isn't necessarily a problem for the experienced members of England's current squad. Most of them were brought up on it anyway, and probably wouldn't be available even if there was a strong county tournament.
However, it is clearly an issue for the next generation. Gus Atkinson had only played two List A games before this World Cup. Of Harry Brook's 25 List A games, 10 are one-day internationals.
Perhaps a bigger problem is the amount of ODIs England have played. Whereas the laser-focussed four years in the run-up to glory in 2019 took in a whopping 88 games, the same period to this tournament included just 42 and lots of those were with a shadow squad because of the pandemic and the various catch-up series.
Even then, 42 is two more than South Africa, one fewer than New Zealand and two short of what Australia have played.
It could be argued it is not the number of matches, but the quality of them. In the past year, England played a meaningless series in Australia straight after winning the T20 World Cup, then ODIs in South Africa and Bangladesh immediately either side of Tests in New Zealand. The last series before the World Cup was three matches for a second-string team against Ireland. As Eoin Morgan's men marched towards the 2019 title, every ODI mattered.
The other classic at these times of disarray is the suggestion of broken morale, a fractured dressing room and a lack of confidence in the coach, captain or bus driver.
David Willey's international retirement has poured fuel on the fire, but can be more easily explained by his omission from the list of central contracts. Of more interest are comments made by Morgan, the godfather of English white-ball cricket, who hinted at something that had "unsettled" the camp.
To a man, England players have lined up to paint a harmonious picture, but Morgan is incredibly close to lots of them. If anyone would know something is going on, it is him. If there isn't, it would be an odd grenade to throw and England will not thank him for it.
Still, happiness in the dressing room is almost always linked to success. England's 2005 Ashes winners didn't always get on, ditto the great Australian teams led by Steve Waugh and Ricky Ponting. It would be strange for a team that is losing to be happy campers.
Perhaps the most likely explanation is this World Cup is simply a tournament too far for England's golden generation. Only four of the original 15 are under the age of 30 and seven of them – Buttler, Joe Root, Ben Stokes, Chris Woakes, Moeen Ali, Adil Rashid and Mark Wood – first played together in an ODI in 2016. Seven years is a long time to keep the same core of a team.
In fact, rather than lamenting the disappointment of this tournament, perhaps the real tragedy is this group has not won more than the trophies of 2019 and the 2022 T20 World Cup. Only Carlos Brathwaite stopped them at the 2016 T20 World Cup and they were the best side at both the 2017 Champions Trophy and 2021 T20, but lost in the semis of both.
The rebuild will soon begin, starting with a tour of the Caribbean that begins exactly two weeks after the World Cup final. The make-up of that England squad will be interesting. It was previously accepted it would be another second-string squad, but the failure in India might necessitate a rethink.
England play only nine T20s before they defend their world title in the Caribbean and USA next June, so five T20s against co-hosts West Indies, as well as three ODIs, might be too good an opportunity to pass up.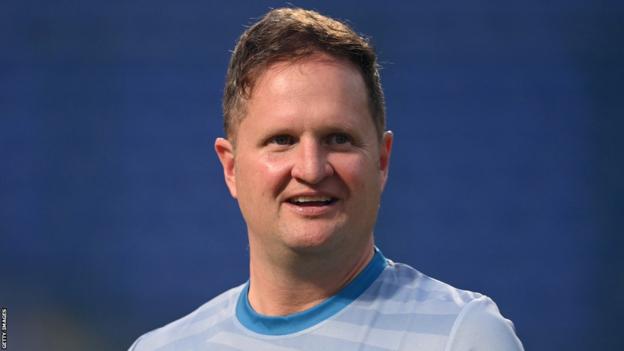 The man to oversee England's regeneration will be Rob Key, the managing director of men's cricket who now faces the biggest test of his 18 months in the top job.
Until now, Key has barely put a foot wrong. His appointments have been successful, results have been good and he, like the rest of us, has the right to feel shocked at the way this World Cup has turned out.
But the central contracts situation is his first obvious mis-step. Announcing the list during a tournament is risky enough, but doing so when Willey is the only player in the squad without a deal is a basic error of man management.
Key will know Buttler and Mott are coming under scrutiny, but questions of the captain and coach come from those with short memories. They have enough credit in the bank to be given the opportunity to defend the T20 title and, if an overhaul of the squad is required, it would make sense to have stability in the leadership roles for now.
Any upheaval will have to be done without performance director Mo Bobat, an important Key ally and a huge voice in player identification and selection. Key called his relationship with Bobat, who is joining Indian Premier League side Royal Challengers Bangalore, "the most enjoyable partnership of any career I have had".
On top of all this, perhaps the biggest challenge facing Key – and the English game as a whole – is balancing competing on all international fronts with keeping players energised, supporters happy and stakeholders satisfied, all with a county structure no-one can agree on.
No other country tries to cram as much cricket into such a short, unpredictable summer, while simultaneously serving the competing interests of so many masters. The amount of domestic cricket, teams, professional players and members should be English cricket's biggest strength, but is still to be fully optimised.
Internationally, England will continue to be pulled in different directions. Next summer, the first Test against West Indies begins 10 days after the T20 World Cup final, while the opening T20 against Australia in September is the day after the last Test against Sri Lanka ends. In the autumn, England sneak to the Caribbean for a white-ball series in between Test tours of Pakistan and New Zealand.
Quite how all of this cricket can be tackled with equal priority, importance and prestige is anyone's guess. In 2015, the neglect of white-ball cricket was blamed for the poor World Cup and priorities were altered. They won the next World Cup and the Test team suffered. Now the Test team is on the rise again. It is almost impossible to have it all ways.
Key's first move has been to centrally contract 29 players, some for as long as three years. He is fortunate to have the resources to do so. Regardless of the issues facing England, they are still one of the three powerhouses of the global game and, for that reason, every failure will be poured over.
This World Cup is undoubtedly one of those failures. The next step, in every sense, will be Key.
Source link