Top Stories
Dallas Marc Kelly: Man jailed for life for murdering his four-month-old son in Cumbria | UK News
A man has been jailed for life and must serve at least 18 years in prison for murdering his four-month-old baby son.
Reece Kelly, 31, from Workington, Cumbria, denied any involvement in Dallas Marc Kelly's death after the baby died from a traumatic head injury in October 2021.
However, he changed his story at trial and pleaded guilty to the manslaughter of his son.
He admitted shaking Dallas but claimed he had no intention to cause him serious harm or death.
The jury didn't believe him and he was found guilty of the baby's murder earlier this month after a two-week trial.
He was also convicted of child cruelty – as was Dallas's mother, Georgia Wright, 23, who was jailed for three years.
She was found not guilty of causing or allowing the death of a child.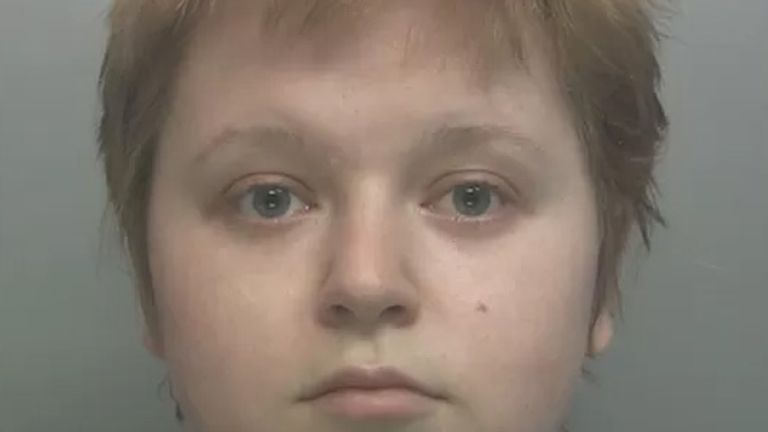 The court heard that a pathologist found Dallas had bleeds over his brain and his eyes – often associated with deliberate head injuries.
He also had fingertip bruising on his chest, consistent with being squeezed, and six fractured ribs.
Five of those were said to have been caused around the time of his death and not likely to have been caused by CPR.
The other fracture was about six to 12 weeks old, according to the pathologist, who said there was no natural disease that could have caused his death, which resulted from a head injury.
Neither of the boy's parents could explain his injured ribs and experts who examined Dallas said all of his injuries were consistent with forceful shaking.
Paramedics attended after Kelly called an ambulance at 12.25pm on 19 October 2021 to say Dallas was not breathing.
Dallas's mother was at work at the time, having left Kelly to look after him.
Paramedics gave first aid at the scene and Dallas was taken to hospital, but he died at 8.40pm.
Prosecutors said Kelly and Wright led chaotic lives and were addicts who appeared to prioritise drugs over food.
Video evidence from a bedroom was shown in court showing Dallas crying for prolonged periods.
'A life tragically cut short'
Victoria Agulló, senior Crown prosecutor for CPS North West, said: "Dallas's life was tragically cut short by his father, who should have loved and cared for him.
"Throughout the police investigation and up until the first day of the trial Reece Kelly denied that he had caused any injuries to baby Dallas.
"Even after admitting manslaughter, he claimed that he had no intention to cause him serious harm, however the evidence the jury heard throughout the trial convinced them otherwise.
"Everyone who has been involved in this case has been deeply moved by the tragic circumstances of Dallas's death."
She added: "Both his parents let him down badly, their chaotic, drug-filled lifestyle and lack of basic care is staggering.
"This is a case that will stay with me. I can only hope that those that loved and cared for Dallas can feel some sense of justice with the outcome of this case."
In a statement through Cumbria Police, Detective Superintendent Jenny Beattie, who led the investigation, said: "Dallas was a four-month-old boy who was entirely defenceless from the actions of his parents, Reece Kelly and Georgia Wright.
"Any child, particularly one as young as Dallas, should have parents who care deeply for them and act in their child's best interest at all times. Sadly, this was not the case for Dallas.
"There is never any excuse or reason to cause harm or distress to a child and I am pleased that both Reece Kelly and Georgia Wright have been held accountable for their actions."