Politics
Does Suella Braverman relish her position as the most controversial minister in the cabinet? | Politics News
For Suella Braverman, there is no such thing as a quiet trip abroad. 
Once again her language is attracting attention, her words heard well beyond the shores of Samos in Greece.
On a trip to talk about immigration, the questions following her are about pro-Palestinian protests and her claim homeless people pitching tents are making a "lifestyle choice".
Speaking exclusively to Sky News, she said she has a "thick skin" when it comes to criticism.
Politics latest: Sunak criticises pro-Palestine protests on Armistice Day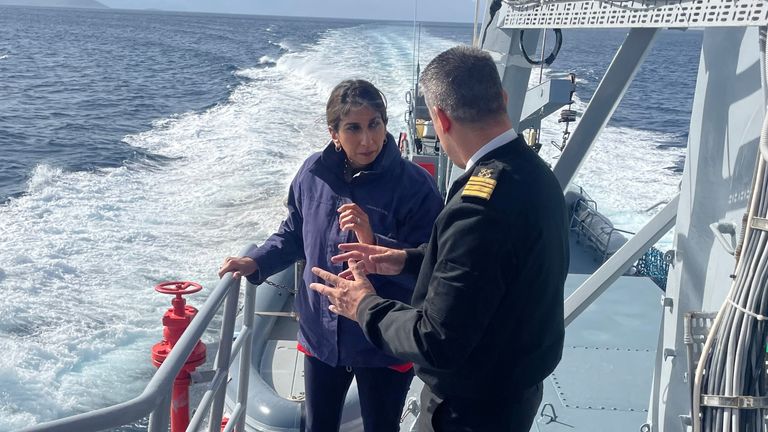 Her language is characteristically provocative. She warned anyone vandalising the Cenotaph on Armistice Day "must be put into a jail cell faster than their feet can touch the ground" – and says cities can't be "ruined and blighted" by homeless people's tents.
Criticism will follow – Labour say she is "overseas to distract" – but Mrs Braverman is appealing to a specific chunk of the electorate and of her party.
She knows the next Conservative leadership race is likely to be fought on the right.
But as home secretary, Mrs Braverman will be judged above all by the government's pledge to "Stop the Boats".
The number of small boat crossings in the UK – 27,000 so far this year – is lower than it was in 2022, but a long way from the few hundred recorded five years ago when the government declared the number of crossings a "major incident". She certainly cannot claim to have stopped the boats.
Mrs Braverman said she is "not claiming success yet" but refused to set a target for where the number of crossings should be by the next election. "It will be obvious" if the government has succeeded, she added.
She believes the UK can "learn" from Greek deterrence methods on immigration.
The Greeks have gone from nearly a million small boat crossings in 2015 to 12,700 last year – a lower number than in the UK.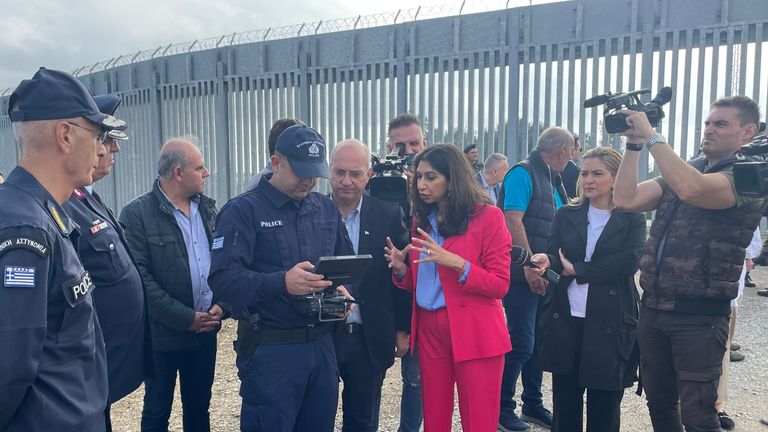 But Greece has also been accused of controversial "pushback" tactics at sea – and charities say they have evidence of strip searches and beatings at the Greek border.
Suella Braverman insists pushbacks are not the UK approach, but "tough" deterrents must be looked at.
Numbers in Greece have also fallen because of a returns deal with Turkey – and so far, the UK has had little success in securing an effective returns deal with France.
Over the last few days, we have seen Suella Braverman as she would like to be portrayed: out on a border patrol with Hellenic coastguard, walking along a 75-mile (120km) steel fence at the land border between Greece and Turkey.
A home secretary talking tough on immigration on the world stage.
Read more:
Home Secretary calls pro-Palestine demos 'hate marches'
Braverman faces backlash after saying rough sleeping is 'lifestyle choice'
Johnson tells COVID inquiry he has reflected on whether lockdowns 'did more harm than good'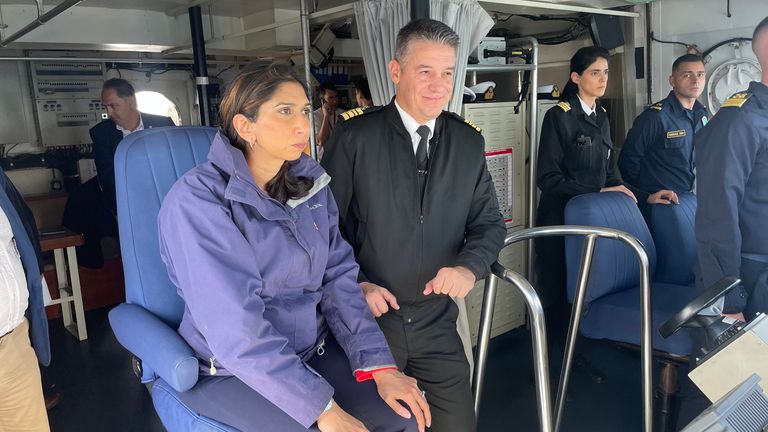 The images of Suella Braverman sitting in the captain's chair aboard a patrol cutter felt reminiscent of Margaret Thatcher's famous appearance on the Challenger Tank (or Liz Truss' later re-enactment).
I asked her if she relishes her position as the most controversial cabinet minister. She said: "Personal attacks will always come with the territory."
But Brand Braverman is provocative to say the least. The home secretary may be here to talk about immigration, but her ambition stretches well beyond stopping the boats.
Source link