Top Stories
Emma Hayes: Chelsea boss 'proud' of Fran Kirby for speaking out on body image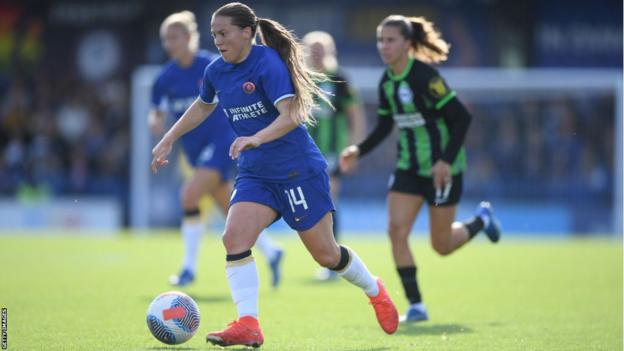 Chelsea manager Emma Hayes says she is "proud" of Fran Kirby for speaking out on body image issues.
Kirby, 30, said there was a "stigma" around nutrition in women's football.
In an interview with Chelsea, the England midfielder said the growth of the women's game has put more pressure on players around "their weight and how they look on TV".
"I'm really glad that Fran said out loud what so many female players do not say enough," Hayes said on Friday.
Kirby missed this summer's Women's World Cup following knee surgery in March.
In October, she started her first game for Chelsea in eight months and she also returned to international duty for the first time in a year, coming on as a substitute in England's 1-0 win over Belgium last week.
Kirby said nutrition has a "huge impact" on both injury prevention and recovery, but added that it can be overlooked because of the pressure player's feel about body image.
"As the game has grown I do believe it has become more noticeable that people are getting comments about their weight and how they look on TV or in pictures," she said.
"That shouldn't matter – what body type you are, how you look in your dress, how you look in a kit.
"It [nutrition] should be something that should be championed to be strong and if that means you have to eat more, you're doing the things your body needs not just because of how you look on camera."
Hayes says she does not believe weigh-ins or body composition tests are needed in the women's game.
"The media need to be mindful of the insecurities that might be there and body shaming is a real thing. The players feel it and I was proud of Fran for saying that because as women we're judged enough to look a certain way," Hayes said in a news conference.
"But in order to perform at the level that you need to, you need to eat carbs, as well as a healthy diet and unfortunately, there is a problem in the game.
"There is a problem in sport with underfueling and underloading. That comes with the constant demands to look a certain way and, unfortunately, a vitriolic environment that comes from social media.
"I always urge everybody to be mindful of that because we're destroying people in many ways."
Chelsea travel to Aston Villa in the Women's Super League on Saturday (12:30 GMT).
Source link