Top Stories
England: Natalie Metcalf and Helen Housby to miss South Africa series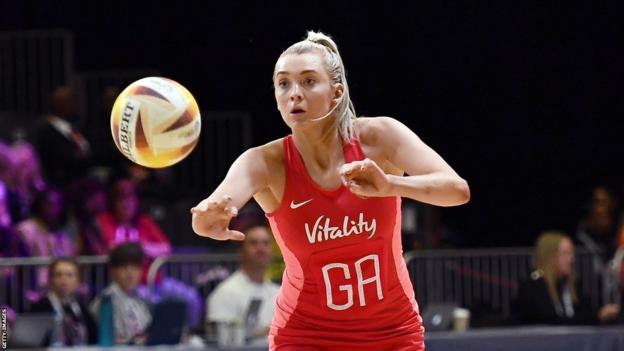 England captain Natalie Metcalf and shooter Helen Housby will miss the home series against South Africa in December.
Five members of that squad, including shooter Eleanor Cardwell and defender Fran Williams, are included for the first time since the tournament.
Jayda Pechova and Berri Neil, who have a combined five caps, also feature.
Defender Funmi Fadoju, shooter Olivia Tchine and mid-courter Imogen Allison return.
Co-captain Layla Guscoth is taking a break from playing this year, having been appointed as a board member for the Netball Players Association.
The three-match series will take place in Manchester on 5 December and Nottingham on 9 and 10 December.
It marks England's first home matches since the World Cup in Cape Town.
The World Cup players were rested for September's 2-1 series defeat in New Zealand, when head coach Jess Thirlby picked a youthful squad.
"We've been looking forward to this home series since the summer. There is nothing like playing at home," she said.
"The selected squad certainly looks and feels different, bringing a new energy and dynamic.
"For selection to be so tough so soon after a World Cup campaign signals the improving depth."
Shooter George Fisher remains absent after rupturing an anterior cruciate ligament this year, while mid-courter Laura Malcolm is sidelined with injury.
England squad
Shooters: Sasha Glasgow, Berri Neil, Eleanor Cardwell, Olivia Tchine
Mid-court: Amy Carter, Hannah Joseph, Ellie Rattu, Alicia Scholes, Imogen Allison
Defenders: Halimat Adio, Jayda Pechova, Funmi Fadoju, Fran Williams, Razia Quashie
England v South Africa
19:00 GMT, 5 December, Manchester
17:00, 9 December, Nottingham
14:00, 10 December, Nottingham