Top Stories
FA Cup: Gareth Southgate's best man Andy Woodman targets upset with non-league Bromley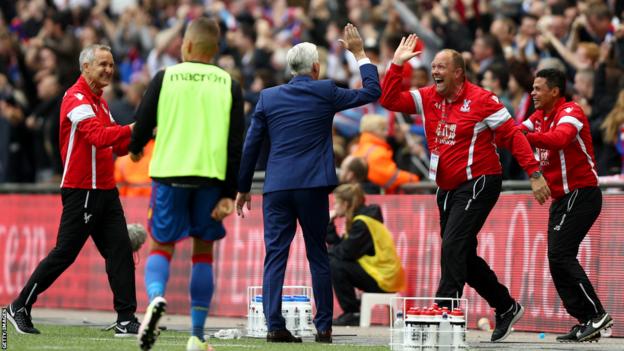 Venue:
Hayes Lane
Date:
Saturday, 4 November
Kick-off:
17:45 GMT
Coverage:
Watch live on BBC Two, BBC iPlayer, BBC Sport website & app
It's 38 years since Andy Woodman and Gareth Southgate first met as schoolboy apprentices at Crystal Palace.
They remain the best of friends despite their football careers taking very different journeys.
While England boss Southgate is planning for next summer's Euro 2024, Woodman is looking to mastermind an FA Cup first-round upset when his non-league Bromley side host League One Blackpool in front of the BBC Two cameras on Saturday.
"It's funny, Gareth and I are both dealing with similar problems albeit he is manager of England and I'm manager of Bromley," Woodman told BBC Sport.
"We talk regularly and I find myself going on about one of my players and he's going on about one of his. It's surreal."
While Southgate enjoyed a playing career at Palace, Aston Villa, Middlesbrough and England, goalkeeper Woodman was released by Palace and played in the lower leagues for the likes of Northampton Town, Oxford United and Brentford.
But their friendship flourished to the extent Southgate was best man at Woodman's wedding, and vice versa. Southgate is also godfather to Woodman's son, Freddie, who is Preston's keeper.
The pair even wrote a book – Woody and Nord: A Football Friendship – documenting their encounters at opposite ends of the football ladder.
So will Woodman be inviting Southgate to Bromley's 5,000 capacity Hayes Lane ground when they face Blackpool?
"Absolutely not. I don't want him taking all the glory off my team," he laughed.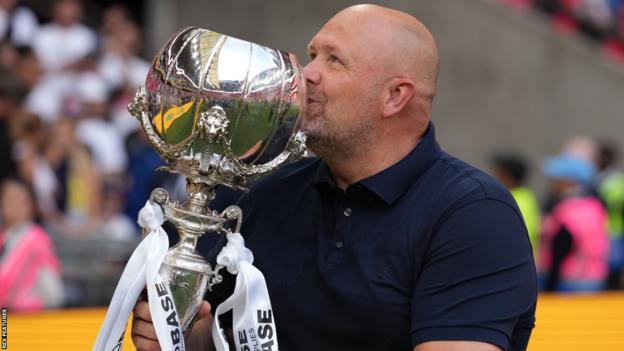 Learning from Wenger
Woodman has 15 years experience as a goalkeeping coach at West Ham, Charlton, Newcastle, Crystal Palace and Arsenal.
He learned alongside the likes of Arsene Wenger and Alan Pardew before deciding to take the plunge and take charge of Bromley in March 2021.
"I worked closely with some top managers and looked at what they did and learned," said Woodman.
"The tactical side, it goes without saying you have to get that right as a manager. But the most important ingredient for me is you have to be able to manage people and make them really want to run through brick walls and believe in you.
"I always felt I had the personality and temperament to be a manager."
Since Woodman was appointed, Bromley have won the FA Trophy, reached the play-offs on two occasions, and are once again making a strong challenge for promotion to the Football League.
They've lost one of their past 17 league and cup games and sit third in the table. In addition, Bromley are one win from reaching the FA Cup second round for the first time since 1945.
"We don't have the biggest budget but I have assembled a group of players and staff that really work hard," said Woodman.
"They don't take anything for granted, they're very professional and they go right to the end. We've got a really honest group and we've had nothing but success in a short period at Bromley."
Bergkamp at Bromley
Hayes Lane is about 18 miles from Arsenal's old Highbury ground where Dennis Bergkamp became a Gunners legend.
Bergkamp senior scored 120 goals in 423 appearances between 1995 and 2006 to cement his name in Arsenal folklore.
He was also part of Wenger's 'Invincibles' side that ended the 2003-04 season unbeaten in the Premier League as they won the title.
Bergkamp's son, Mitchel joined Bromley in January, with the attacking midfielder helping the team reach the National League play-offs before signing a new contract for the 2023-24 season.
But the former Watford player, 25, has endured a frustrating campaign after suffering "a problem with concussion" and will not feature against Blackpool.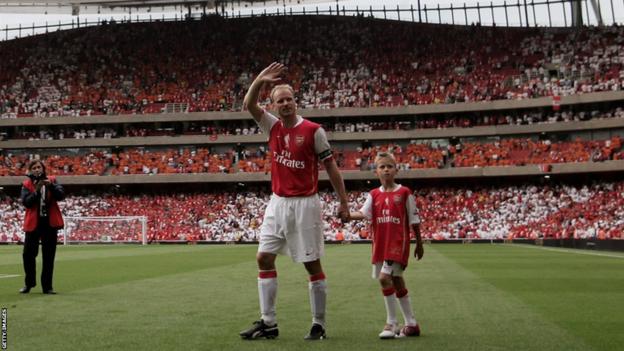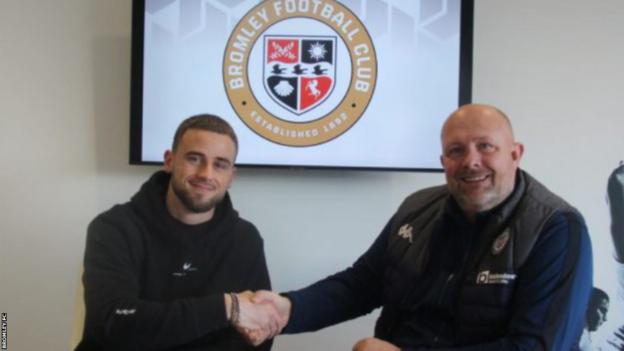 "He's on a lengthy lay-off at the moment," said Woodman.
"We're not rushing him. He's a really lovely lad and having the name Bergkamp on the back of his shirt, he wants to be out on the pitch playing.
"But I've said to him 'some things are more important than football'.
"He's had a couple of concussions which have caused him a bit of a problem. We haven't got a date on when he will return."
Source link