Top Stories
Government minister's father-in-law 'left waiting 27 hours' to be admitted to hospital | UK News
A government minister has said his father-in-law was left waiting nearly 27 hours to be admitted to hospital with a spinal injury.
Wales Secretary, David TC Davies, said the state of the NHS in Wales was a "national scandal".
Responsibility for the NHS in Wales is devolved to the Welsh government in Cardiff.
The MP for Monmouth, who was appointed to the UK government cabinet by Prime Minister Rishi Sunak last year, claimed the delays following his 72-year-old father-in-law Joe Harnisfoger's fall were an example of "systemic healthcare failings".
The incident comes weeks after the Welsh government announced a series of cuts to protect the NHS budget amid "unprecedented" financial pressures.
Mr Davies's wife Aliz was in England at the time but called 111 immediately.
She was told they could not help as the incident had happened in Wales and instead advised her to call the emergency services.
An initial 999 call was made at 10.55am on Monday morning where an operator said Mr Harnisfoger had to be assessed before an ambulance could be sent and medical staff would call within two hours.
At 1.35pm, following a further 999 call, he was assessed over the phone by a nurse. She said he needed to be sent to hospital, but an ambulance would take four hours to arrive.
At 10.30pm, the emergency services rang to apologise for the delay.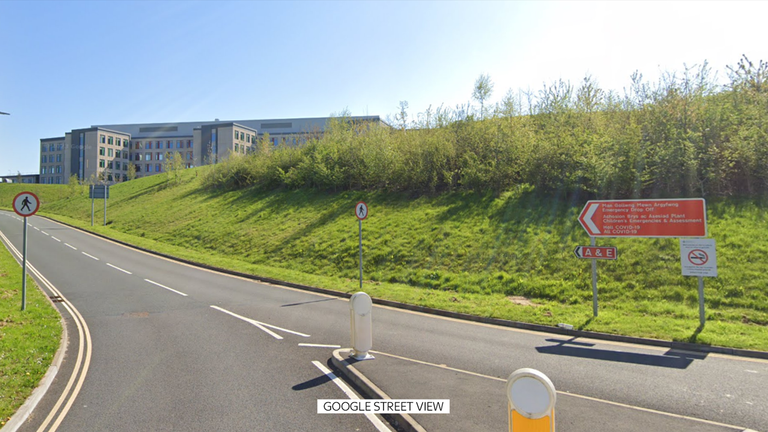 Paramedics arrived at 4am on Tuesday morning, but when he was taken to the Grange University Hospital at Llanfrechfa his ambulance was forced to wait for a further seven hours outside the emergency department.
"My father-in-law is an extremely tough man and the staff who did treat him were wonderful, but this was a hugely distressing incident," Mr Davies said.
"It is shameful and scandalous that an elderly man, who could have suffered a serious injury, was left waiting to get into hospital for more than 24 hours."
Mr Davies added the situation is "no fault of our first-class health professionals" but said the Welsh government was "drastically failing" in its devolved responsibilities.
A Welsh government spokesperson said it was "sorry to learn about the patient's experience".
"We have been clear with the Aneurin Bevan health board of our expectations for improvement in ambulance patient handover performance to free up vehicles to support faster responses," the spokesperson added.
"Despite continued budget pressures we are investing in same-day emergency care and extra community beds as well as integrated solutions with social care services to improve patient flow through hospitals; and tackle ambulance handover delays."
Read more from Sky News:
Patient lost sight in eye due to health board's failings
Advice on burns sought every 21 second over bonfire weekend
Welsh Ambulance Service warns of 'difficult' months ahead
Jason Killens, chief executive of the Welsh Ambulance Service, said the trust was "deeply sorry to hear about Mr Harnisfoger's experience".
"Poor ambulance response times are a symptom of much broader and complex system-wide issues, including hospital handover delays, which are not unique to Wales," he added.
"What's clear is that we need bold decisions as a whole system to truly effect change, and we welcome whatever intervention can be made by health board partners and the Welsh government to improve the picture as we head to winter."
A spokesperson for Aneurin Bevan University Health Board also apologised to Mr Harnisfoger for his "long wait".
"Like hospitals across Wales and the rest of the UK, we are experiencing significant delays in the flow of patients through our hospital systems at the moment due to difficulties with discharging patients who no longer need hospital-based care," they added.
"We're working with our local authority colleagues to address these delays and help patients who no longer require hospital care to return to their own homes.
"We hope that Mr Harnisfoger has a speedy recovery and if he has any concerns about his care whilst in the Grange University Hospital, we would encourage him to contact us directly so that we can look into this for him."
Source link