Top Stories
Hezbollah leader threatens possible escalation – as Israel warns 'don't test us' | World News
The leader of Lebanon's Hezbollah has warned of possible escalation as his militia engages in cross-border fighting with Israel.
In his first speech since the outbreak of the war, Hassan Nasrallah said all options on the Lebanese front were open and the group was "ready for all possibilities" – as well as for US warships.
"Your fleets in the Mediterranean… will not scare us," he said of US military deployments in the region.
Nasrallah stopped short of announcing that Hezbollah was fully engaging in the Israel-Hamas war – but said the fighting on the Lebanon-Israel border would "not be limited" to the scale seen until now and that all options are "on the table".
Follow live: Israel on 'very, very high alert' on Lebanon border
Nasrallah denied any suggestion of Hezbollah involvement in the attack launched by Hamas against Israel on 7 October, saying it was "100% Palestinian".
He also paid tribute to the Lebanese and Palestinian "martyrs" killed in the conflict.
"My brothers and sisters peace be upon you all," he said. "We are here today to remember those who are models of Hezbollah."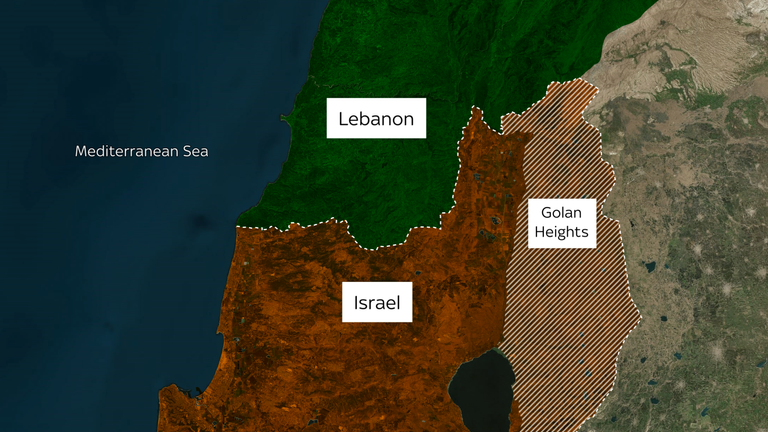 The speech was televised live across Beirut, with thousands gathering to watch it and celebratory gunshots ringing out over the capital.
Speaking on Friday, Israeli Prime Minister Benjamin Netanyahu ruled out a temporary cease-fire in the Gaza Strip until hostages held by Hamas are released.
"I tell our enemies in the north, don't test us, you will pay dearly," he added.
Nasrallah is a leading voice in a regional military alliance established by Iran to counter the US and Israel, known as the "Axis of Resistance".
His address comes after Hezbollah yesterday mounted what appeared to be its biggest attack on Israel so far.
It claimed to have launched 19 simultaneous strikes on Israeli army positions and used explosive drones for the first time.
This breaking news story is being updated and more details will be published shortly.
Please refresh the page for the fullest version.
You can receive breaking news alerts on a smartphone or tablet via the Sky News app. You can also follow @SkyNews on X or subscribe to our YouTube channel to keep up with the latest news.
Source link