Top Stories
Israel-Hamas war: What social media videos and satellite images tell us about the number of dead in Gaza | World News
Mass casualty airstrikes in Gaza have captured headlines around the world, but doubt has been cast on the reliability of fatality figures in the warzone. 
Confusion is common in the immediate aftermath of attacks in any conflict, but even Gaza's official count of the number killed, based on hospital administrative data, has come under scrutiny.
Gaza's Hamas-run health ministry says 9,061 people have been killed since 7 October, two-thirds of them women and children.
Last week, an Israeli military spokesman said the ministry "continuously inflates the number of civilian casualties". That concern was echoed by US President Joe Biden, who said he has "no confidence" in the figures.
Israel's fatality figures have not attracted the same scepticism. The Israeli military says that "over 1,400" people were killed by Hamas on 7 October, with police estimating that 1,033 were civilians. A further 20 Israeli soldiers have been killed during ground operations in Gaza, according to the Associated Press.
Whereas journalists and UN investigators have been able to visit the Israeli villages attacked by Hamas to corroborate the figures, Israel has not allowed observers to enter Gaza since the war began.
Analysts say that even for Gazan journalists, periodic phone and internet outages, widespread fuel shortages and the risk of airstrikes have hindered movement within the territory.
"Another challenge is the intensity of the bombardment," says Emily Tripp, director of Airwars, an organisation specialising in the verification of airstrike casualties.
"If the war stops tomorrow, it'll probably take us another three or four months just to really go through everything properly."
Satellite imagery shows graveyards expanding
Social media videos and satellite imagery have become crucial resources in allowing outside observers to verify individual incidents, as well as to show the scale of the killing.
Footage posted online, for instance, shows the rapid expansion of cemeteries in Gaza, where dozens of new, makeshift graves have been dug.
Sky News was able to locate this video, uploaded to Snapchat on 19 October, to a cemetery on the outskirts of Gaza City.
"This is Al-Batish cemetery, these graves are all new," the person capturing the video says.
"People are leaving their dead ones here. May God forgive the martyrs."
Satellite imagery of the cemetery, taken on the same day, shows a bulldozer digging new graves.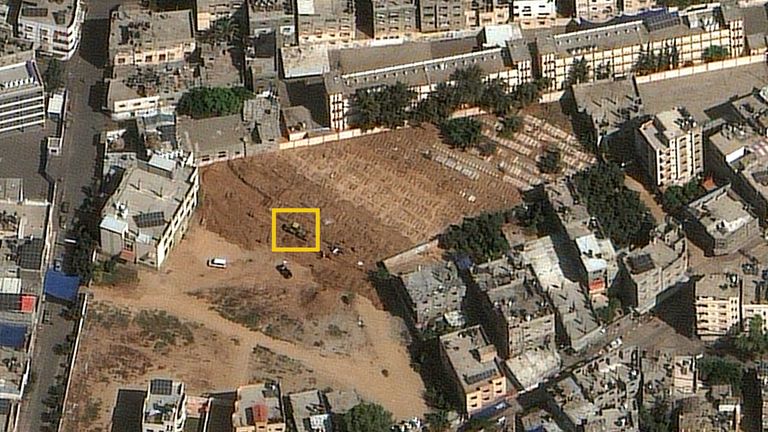 In central Gaza, the Deir al-Balah cemetery has also started to expand.
A worker at the cemetery, Diaa Aqel, said: "[On 9 October] more than 500 martyrs were buried in the cemetery, and we opened the old graves there. […] There was no room left at all."
Satellite imagery obtained by Sky News shows how the cemetery has undergone a significant expansion.
Sky News has identified the newly-cleared land as the location of mass graves. The video below shows the burial of 33 people, including 15 members of one family, in this part of the cemetery on 23 October.
The footage below, taken at the same site six days later, shows dozens of breeze blocks being used as makeshift headstones.
In a statement on Telegram on 21 October, Gaza's ministry of religious affairs authorised the digging of mass graves for those killed during the bombings. Authorities say that each governorate has at least two mass graves, some holding over 100 people.
The scale of the conflict and the difficulty of obtaining on-the-ground documentation means that open-source verification can, for now, only provide a partial view of the war's impact.
'There's nothing that would lead us to distrust the numbers'
In the meantime, outside observers are likely to continue relying on Gaza's ministry of health for an overall picture of the number of fatalities.
"The ministry of health in Gaza has historically been fairly reliable," Tripp says.
"They know the number of people in hospitals, they've got the infrastructure, they've got the data."
In recent Gaza wars, figures published by the ministry of health during the fighting have ended up being broadly in line with those later produced by the UN and Israel Defence Forces.
In response to the questions raised about the reliability of their statistics, the ministry recently published the names and ages of all 6,474 victims who had been identified.
In a recent investigation into an airstrike in Gaza City, Airwars verified the death of surgeon Dr Medhat Saidam and 23 of his family members.
"We were able to find pretty much every one of those names in the ministry of health database," Tripp says.
Dr Saidam had just returned home after a seven-day shift at his hospital when the strike hit. Among those killed were his mother and his brother's three young children, aged 6, 9 and 11.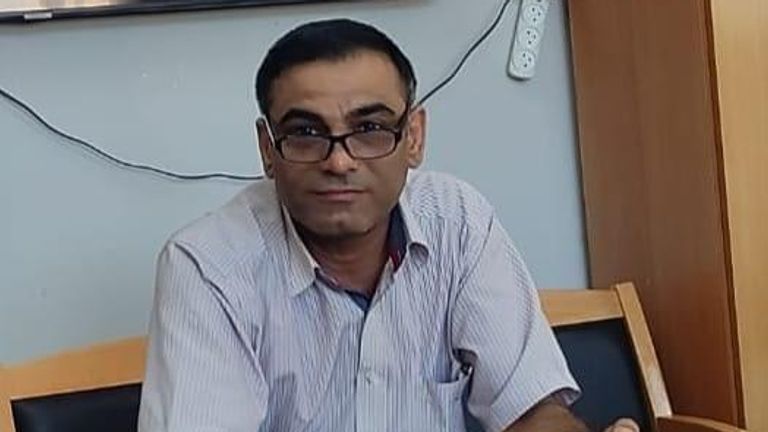 "I can say from that case, that what we're seeing is that the open-source information at least corresponds to what the ministry of health is documenting," says Tripp.
Brian Root, a senior quantitative analyst at Human Rights Watch, says the ministry's figures have "always been comparable" to his own findings.
"There's nothing that would lead us to distrust the numbers."
Figures released by the health ministry came under particular scrutiny following a blast at Al Ahli Arab Hospital on 17 October. Initial reports suggested that more than 500 people had been killed.
The ministry later said that 471 people had been killed, while US intelligence agencies assessed the true number of fatalities to be on the low end of 100 to 300 people.
"There's a big difference between a rapid estimate versus the numbers that come out of administrative data and are compiled over time through hospitals and morgues," Mr Root says.
"When a number comes out quickly on social media or something like that, that is not something that we immediately take as factual."
The real number could be higher
Mr Root told Sky News that the numbers reported by the ministry seemed plausible given Gaza's high population density and the scale of destruction visible in satellite imagery.
Sky News has also looked at the number of deaths among UN staff, which Mr Root says serves as a "good gut check" on the figures.
The UN says that 70 of its staff in Gaza have been killed, approximately 0.56% of the total.
That's slightly higher than the death rate for all Gaza residents reported by the ministry of health, which stands at 0.41%.
Root said that it is not a perfect comparison, but that it corroborates the scale of deaths reported by the ministry of health.
"In fact, as people go through damaged buildings, we can expect maybe those numbers will increase," he added.
"They might actually be higher than the numbers that are currently coming out."
---
The Data and Forensics team is a multi-skilled unit dedicated to providing transparent journalism from Sky News. We gather, analyse and visualise data to tell data-driven stories. We combine traditional reporting skills with advanced analysis of satellite images, social media and other open source information. Through multimedia storytelling we aim to better explain the world while also showing how our journalism is done.
Source link