Top Stories
Israel-Hamas war: Which countries are calling for a ceasefire – and how is it different to a humanitarian pause? | World News
The UN has failed to adopt a unanimous resolution for a ceasefire between Israel and Hamas.
So far it has only agreed to an "immediate, sustained humanitarian truce, leading to a cessation of hostilities".
It has also failed to get all member states to condemn the 7 October attack by Hamas.
Israel on 'very high alert' on Lebanon border – live updates
A lack of consensus on Israel's right to self-defence, an independent state for the Palestinian people – and the status of Hamas are among the issues around a ceasefire.
Here Sky News looks at the different definitions – and what the key international players are supporting.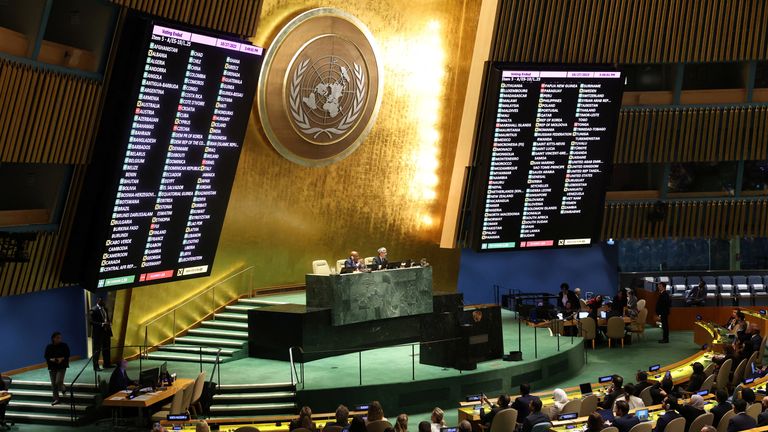 Ceasefire
A ceasefire would require Israel and Hamas to come to a formal, political agreement to stop fighting.
It would involve the withdrawal of Israeli troops from Gaza and likely a pledge by Hamas to release all its hostages.
A ceasefire would cover the entire geographical area of Israel and the Palestinian territories – and not just a particular zone.
Cessation of hostilities
Often used synonymously with 'ceasefire', the term 'cessation of hostilities' would also involve a stop in fighting.
However it is less structured than a ceasefire – and does not constitute a political agreement between the two sides – complete with objectives, timelines and monitoring.
Humanitarian pause (truce)
This is not a ceasefire – but a temporary stop in fighting to allow humanitarian aid into Gaza – and possibly safe passage of those in need or extreme danger out of the enclave.
Humanitarian pauses do not have to cover the whole conflict zone – and can be confined to a smaller area.
They are often short – sometimes only lasting for a few hours.
USA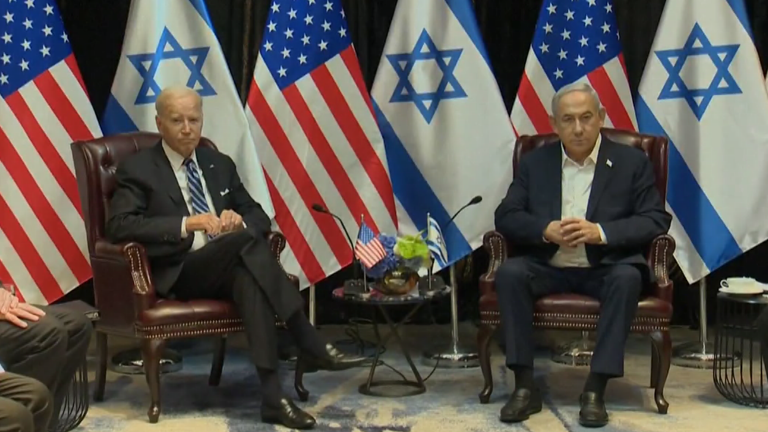 Both President Joe Biden and secretary of state Antony Blinken have visited Israel and repeatedly reiterated its "right to defend itself".
The US was one of the UN member states that voted against a resolution for a ceasefire, with national security spokesperson John Kirby saying it is "not the right answer right now". Instead, Mr Biden has said "we need a pause".
American officials have said it cannot back a ceasefire until Hamas releases all Israeli hostages.
The US has long held the view that a two-state solution is the answer to the Arab-Israeli conflict – helping broker the 1993 Oslo Accords during the Clinton administration, which many view as the closest point in history to achieving it.
Meanwhile, it has deployed two aircraft carriers to the region – as well as missile defence systems to support US troops there. Mr Biden has also expressed wanting to increase its Israel aid budget by millions.
UK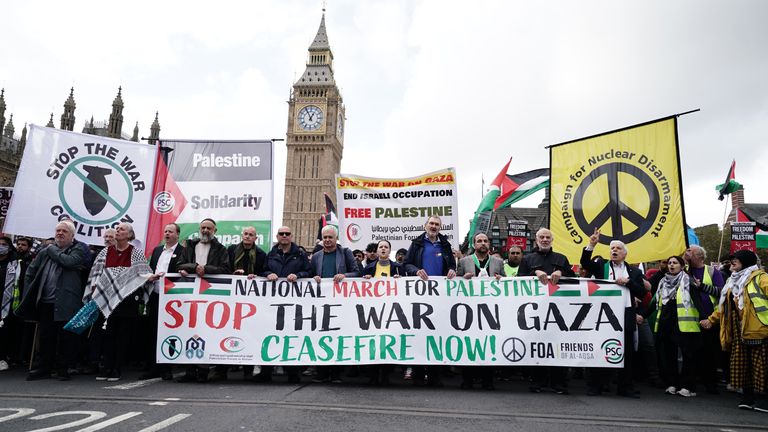 Like the US, the UK government has not backed a ceasefire in the short term – and supports a two-state solution in the longer-term.
Both Prime Minister Rishi Sunak and opposition leader Sir Keir Starmer have come under huge pressure from members of their own parties to change their stances on a ceasefire.
Tens of thousands of people have attended pro-Palestine marches in London and other cities to protest the UK position.
But Mr Sunak has said the "first and most important principle is that Israel has the right to defend itself under law".
Read more:
Hundreds of foreign nationals cross Gaza border
A brief history of the Arab-Israeli conflict
He also sacked Peterborough MP Paul Bristow after he refused to toe the line and called for a "permanent" ceasefire in Gaza.
On why he is not backing a ceasefire, Sir Keir said it would "leave Hamas with the infrastructure and the capabilities to carry out the sort of attack we saw on 7 October.
"Attacks that are still ongoing. Hostages who should be released still held. Hamas would be emboldened and start preparing for future violence immediately."
Europe
The EU has been unable to agree on calling for a ceasefire – instead advocating a humanitarian pause.
While France, Spain, Portugal and Ireland back the former, Italy, Germany and Iceland abstained from the UN resolution on it.
Sweden, for example, said it could not support a ceasefire due to a lack of condemnation of the "abhorrent Hamas attack", adding: "The use of human shields is unacceptable".
Turkey, a long-term ally of the Palestinians, voted for a ceasefire. It does not define Hamas as a terrorist organisation and has been critical of Israeli tactics in Gaza.
Most EU states back a two-state solution.
Russia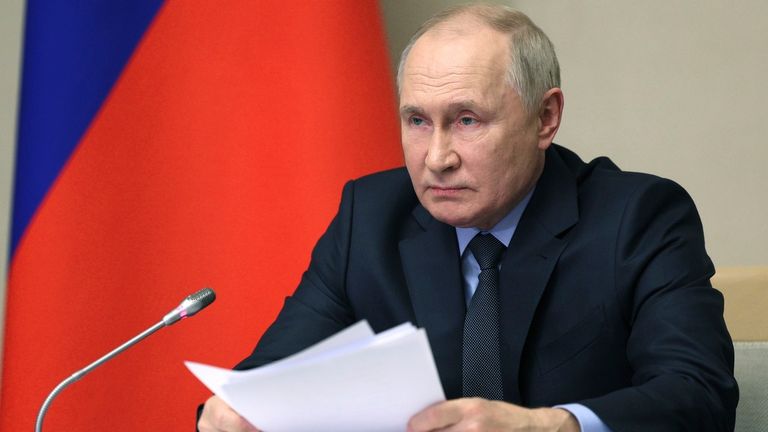 Russia has been calling for a ceasefire since war broke out on 7 October.
While traditionally it is an advocate of the Palestinian cause, it has improved ties with Israel in recent decades – even despite its involvement in the Syrian war alongside Iran.
It calls for a two-state solution, but more recently has angered Israeli officials by receiving a Hamas delegation in Moscow.
Vladimir Putin blames Western involvement in the Middle East for the conflict in general.
China
China has failed to condemn Hamas, with President Xi Jinping declaring the Palestinians need their own independent state. Officially it backs a two-state solution.
Some hope that Beijing could use its relationship with Iran to help get Hamas to the negotiating table with Israel.
China is Iran's biggest trading partner and helped facilitate an agreement between Tehran and its long-term enemy Saudi Arabia.
But many rubbish claims China could act as a mediating power – due to its tensions with many other key players on the world stage.
Egypt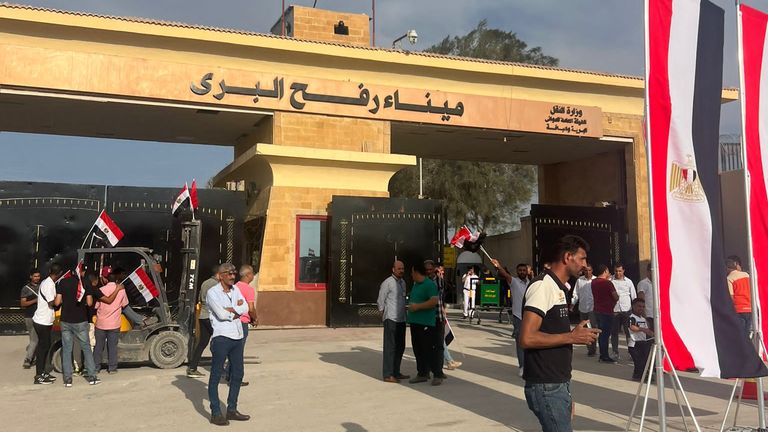 Egypt has played a key role in mediation between Israel and Hamas, due to its border with Gaza at the Rafah crossing, and advocates a ceasefire.
Although a Muslim country and a supporter of the Palestinians' right to an independent state, since the signing of the 1978 Camp David Accords, Egypt has become a close ally of Israel – particularly under the presidency of Abdel Fattah el-Sisi.
In view of their offensive in Gaza, Egypt – along with Jordan, Bahrain and Morocco – have come under pressure to cut ties with Israel.
It has allowed a limited number of critically-ill Gazans through the Rafah crossing, along with foreign nationals, but does not want to let endless numbers in – claiming it cannot accommodate them.
Mr el-Sisi has also publicly rejected Israeli calls to move Gazans to the Sinai desert.
Lebanon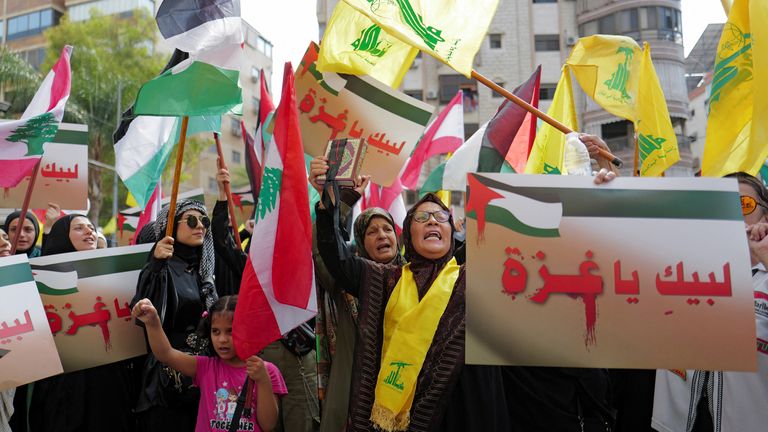 Hezbollah, the Iranian-backed military force, is based in southern Lebanon, on the border with Israel.
Although Hamas is from the Sunni branch of Islam and Hezbollah is Shia, they are both committed to the destruction of Israel.
Therefore as long as Hamas do not agree to a ceasefire – neither will Lebanon.
Iran
When war broke out on 7 October, Iran's leader Ayatollah Ali Khamenei said: "We kiss the hands of those who planned the attack on the Zionist regime".
Iran has long been an enemy of Israel and its funding of Hezbollah in Lebanon is largely driven by this.
It therefore does not support a ceasefire or the two-state solution.
Qatar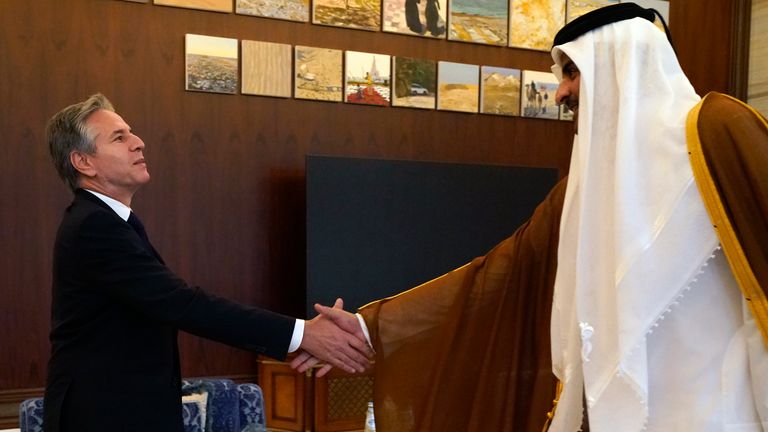 Qatar was one of the first Arab Gulf states to establish ties with Israel. It has links to its allies in the US – but also has a direct line to Hamas.
Since the start of the war it has been involved in negotiations for the release of Israeli hostages.
Qatar's official position is for a two-state solution – and for a long-term ceasefire.
Saudi Arabia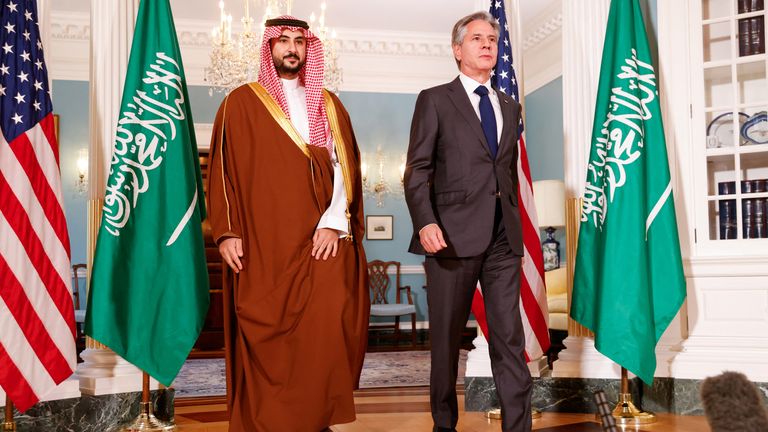 Saudi Arabia was making steps towards normalising relations with Israel before war broke out, with some analysts claiming Hamas launched its attack to destabilise those talks.
Saudi defence minister Khalid bin Salman met with the US secretary of state, Mr Blinken, and White House national security advisor Jake Sullivan this week.
After the discussions, the US politicians said they believe there is "a path to get back towards normalisation" beyond the war.
Meanwhile, Saudi officials are calling for an "immediate humanitarian ceasefire".
Source link