Top Stories
King to lead Remembrance Day service at Cenotaph hours after protests resulted in hundreds of arrests | UK News
The King will lead a Remembrance Day service at the Cenotaph today, just hours after protests sparked hundreds of arrests in London.
The Metropolitan Police has been under pressure to prevent disruption at Remembrance events after tensions surrounding Saturday's pro-Palestine march and counter-protests.
The number of officers on duty in the capital is double the usual amount, with 1,375 officers expected today, and the Cenotaph has a dedicated 24-hour police presence until the conclusion of Remembrance events.
Follow latest updates: Tensions remain on London streets after march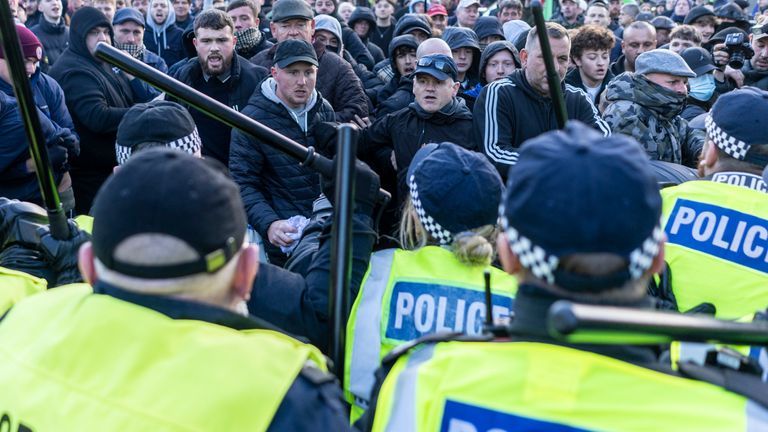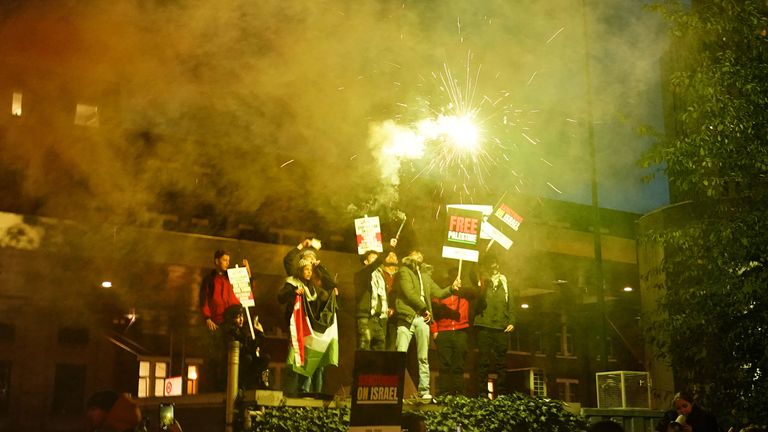 Around 150 pro-Palestinian protesters were arrested on Saturday, along with 82 right-wing counter-protestors following a 300,000-strong march through central London.
Police have said they are "actively looking" for individuals seen carrying antisemitic placards at the demonstration, which they insisted remained "largely peaceful".
The marches have become a feature of weekends in the capital since Israel struck back against Hamas after the group, a proscribed terrorist organisation in the UK, killed 1,400 Israelis and took hundreds hostage.
Latest police clashes with protesters

Remember the fallen
King Charles will lead the country at the Whitehall memorial in commemorating the end of the First World War and other conflicts involving British and Commonwealth forces.
Almost 10,000 veterans and 800 armed forces personnel from all three services will take part in a march-past.
A two-minute silence will take place across the UK at 11am.
Wreaths will be laid by members of the Royal Family, senior politicians and dignitaries at the Cenotaph.
They will be joined by thousands of members of the public who will line Whitehall to watch the service.
UK falls silent for Armistice Day

Among those attending will be nuclear test veterans, who for the first time will wear a medal acknowledging their contribution.
After 70 years of waiting for recognition, those exposed to the effects of nuclear bombs during the UK's testing programme were given a medal – depicting an atom surrounded by olive branches – for the Remembrance Sunday service.
More than 300 different armed forces and civilian organisations will be represented, as well as some 300 veterans not affiliated with an association who have been invited to join for the first time.
They will also mark 70 years since the end of fighting in the Korean War and 20 years since the start of the UK's military operations in Iraq.
Read more:
Deepfake audio of Sadiq Khan is not a criminal offence
Leaked messages reveal scale of civil war between Tory MPs
Suella Braverman's long list of controversies
Prime Minister Rishi Sunak said: "The courage and commitment shown by our servicemen and women, both today and throughout the generations that came before them, is humbling and I know many across the country will be honouring their memory today in quiet reflection.
"Recent events have served as a stark reminder that we cannot take the hard-earned peace we live in for granted, which is why I am honoured to lay a wreath on behalf of the nation in the memory of all those that have lost their lives defending our country and the values we hold so close.
"I am determined to ensure we never forget the ultimate sacrifice they have made."
Braverman saga rumbles on
Braverman asked if she will resign

The prime minister remains under pressure to sack Home Secretary Suella Braverman after she branded the pro-Palestine protests "hate marches" in an article in The Times.
Labour leader Sir Keir Starmer accused her of "sowing the seeds of hatred" and Mayor of London Sadiq Khan also called for her to be relieved of her post.
Her comments have also caused a rift in the Conservative party, with numerous Tories privately calling for her to be given the boot, while former Tory MP Dominic Grieve has publicly called for her to be removed and even barred from laying a wreath at the Remembrance service.