Top Stories
Luis Diaz: Jurgen Klopp says he will allow forward to decide availability after father's kidnapping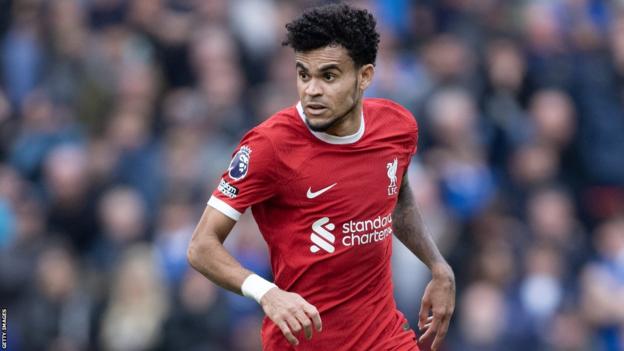 Liverpool manager Jurgen Klopp will allow Luis Diaz to decide whether he is able to play this weekend following his father's kidnapping in Colombia.
Klopp confirmed Diaz, 26, returned to training on Wednesday as the Reds prepare to face Luton on Sunday.
Luis Manuel Diaz and his wife were seized at gunpoint on Saturday. Diaz's mother was found in Barrancas but his father remains missing.
"We will wait to see how he is and go from there," Klopp said.
"We will not force the situation – it's out of our hands," he added.
"If he feels right, he will train with us. When he's with the boys he's fine but you can tell he hasn't slept a lot.
"He was in training two days ago and yesterday did a session."
The Colombian government says Diaz's father was kidnapped by left-wing rebels of the National Liberation Army (ELN), sparking a major military and police search.
A representative of the group has reportedly said it will free Diaz's father in the coming days.
Diaz was absent from the Liverpool side which beat Nottingham Forest 3-0 on Sunday, during which team-mate Diogo Jota held up Diaz's number seven shirt after scoring his side's first goal.
He was again absent for his side's EFL Cup last 16 win against Bournemouth on Wednesday.
"The news, I didn't personally get from Colombia, I always get it forwarded but everything that gives us a bit of hope is good," Klopp said.
"We are waiting for really good news."
The ELN is Colombia's main remaining active guerrilla group. It has been fighting the state since 1964 and has an estimated 2,500 members.
The kidnappers abandoned Diaz's mother, Cilenis Marulanda, in a car following the kidnapping in their hometown of Barrancas, in Colombia's northern province of La Guajira.
Colombian police offered a reward of about £40,000 for information regarding the whereabouts of Diaz's father and more than 120 soldiers, plus police, have been searching northern Colombia.




Source link