Top Stories
Netanyahu's wife writes to Jill Biden saying Hamas hostage gave birth in captivity | World News
The wife of Israel's prime minister has written to Jill Biden claiming a kidnapped woman gave birth in Hamas captivity, urging her to demand the release of hostages. 
In a letter to the US first lady, Sara Netanyahu said she was writing "first and foremost as a mother" to urge her to "speak out on behalf of these children".
She said 32 children are being held hostage, including a 10-month-old baby who was "kidnapped even before he learned how to walk or talk".
"These children are surely suffering from untold trauma, not only by being kidnapped, but having witnessed the brutal murder of their parents and siblings on that horrific October 7th," she wrote.
One of the hostages was pregnant when she was taken by Hamas, Mrs Netanyahu said.
"She gave birth to her baby in Hamas captivity. You can only imagine, as I do, what must be going through that young mother's mind as she is being held with her newborn by these murderers."
Mrs Netanyahu urged Mrs Biden to "call for the immediate release of them and all those being held".
"This nightmare that began over a month ago must end," she wrote.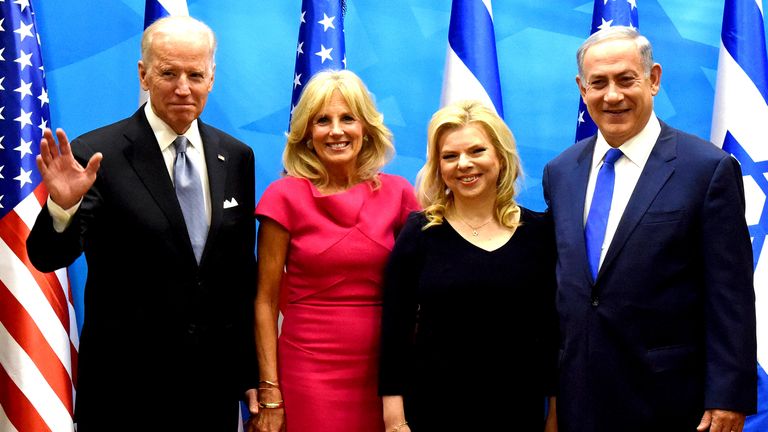 Read more:
Inside Gaza's 'humanitarian corridors'
'Evacuate' leaflets dropped in southern Gaza
Hamas kidnapped around 240 people – aged between nine months and 85 – during the October 7 attack, the Israeli military has said.
On Wednesday, US President Joe Biden told reporters he was doing everything in his power to free hostages held by Hamas in Gaza, but that did not mean sending in the US military.
Qatar is trying to negotiate a deal between Hamas and Israel that would include the release of about 50 civilian hostages from Gaza in exchange for a three-day ceasefire, an official briefed on the negotiations told Reuters on Wednesday.
The deal, which is being coordinated with the US, would also see Israel release some Palestinian women and children from Israeli prisons and increase the amount of humanitarian aid allowed into Gaza.
Biden: 'Hang in there, we're coming'

Hamas has agreed to the general outlines of this deal, but Israel – which has since bombarded and sent forces into Gaza – has not and is still negotiating the details, the official said.
The families of Israeli hostages are on a five-day march from Tel Aviv to Jerusalem to demand more action from the Israeli government on securing their release.