Top Stories
Police 'actively looking' for individuals over antisemitic signs at pro-Palestinian march | UK News
The Metropolitan Police has said it is "actively looking" for individuals pictured at Saturday's pro-Palestinian march in London carrying antisemitic placards.
Hundreds of thousands of people have been taking part in a march in the capital calling for a ceasefire in Israel's war against Palestinian militant group Hamas.
While it has remained largely peaceful, images are circulating on social media showing some protesters carrying the signs.
Follow latest updates: Tensions remain on London streets after march
The Met Police has responded to a number of the posts saying it was working to identify those involved including individuals who wore what were described as Hamas-style headbands.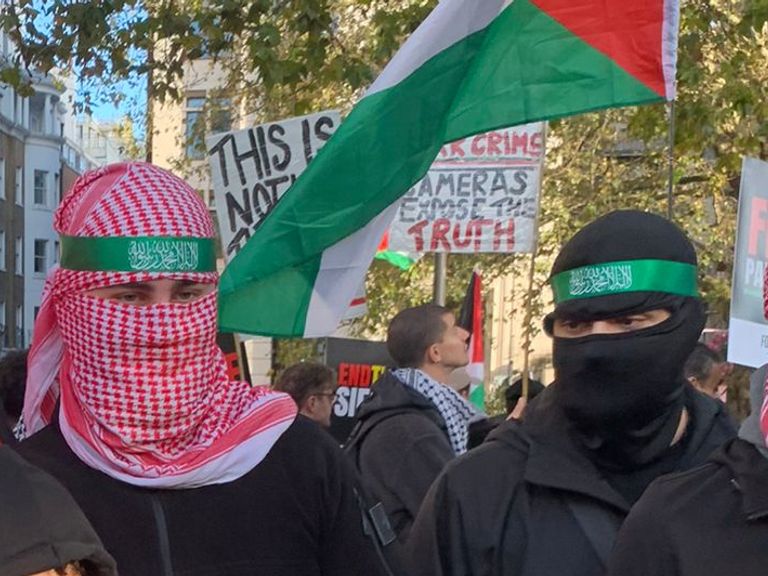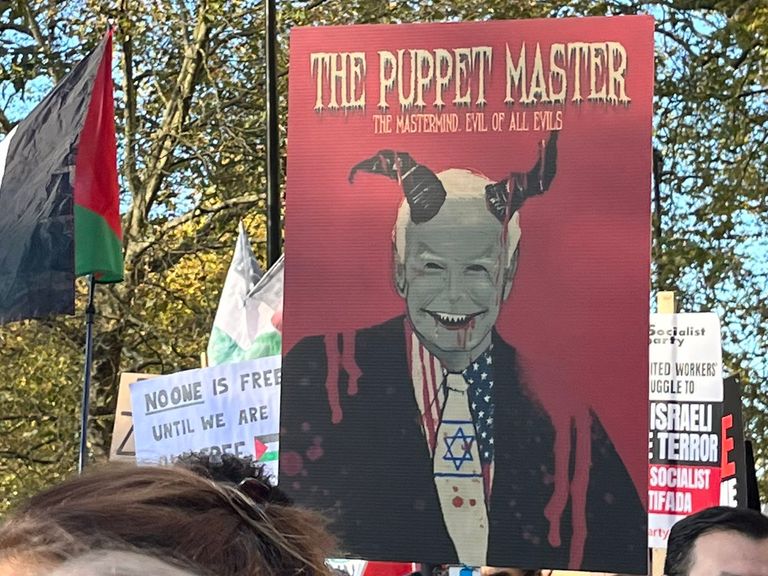 "Officers are actively looking for these individuals and will take proactive action when they are identified," the force commented.
The editor of the Jewish Chronicle, Jake Wallis Simons, is among those posting images of the placards, including one he said was pictured in London today showing a snake in the colours of the Israeli flag encircling the world.
He compared it to an image from Nazi Germany.
As protesters gathered at the start of the route at Hyde Park, chants of "from the river to the sea, Palestine will be free," could also be heard.
The slogan is viewed by many Jews as antisemitic, and is taken to mean a call for the eradication of Israel.
So, what does the chant actually mean, and where did it come from?

Sky News has also seen graffiti on the route of the protest which makes a comparison with what is happening in Gaza with what happened during the Holocaust, although it is not known if it was made by anyone on the march.
Alongside the pro-Palestinian march, far-right protesters gathered in London on Saturday as Armistice Day was being marked.
A number of the protesters clashed with police, with the Met saying dozens had been arrested.
The force said those detained were "part of a large group of counter-protestors we have been monitoring who have tried to reach the main protest march".
Far-right protesters have clashed with police in Parliament Square, as thousands of people join a pro-Palestinian march in the capital.

More than 1,000 police officers have been drafted in from outside forces to monitor the protests, with the Met saying 1,850 personnel are on duty on Saturday and 1,375 on Sunday.
In a statement ahead of the march, the Met Police said: "We'll be using an extensive set of powers to prevent any disruption whatsoever to remembrance events, policing the demonstration as it passes through parts of the capital, while protecting our communities from those intent on inciting hate, violence and disorder."