Top Stories
Police detain around 150 pro-Palestine protesters – after dozens of far-right demonstrators arrested | UK News
Around 150 pro-Palestinian protesters have been detained by police after breaking away from a march that took place through London.
The Metropolitan Police said the group launched fireworks and many were wearing face coverings.
"Officers are using their Section 60 and 60AA powers to detain and search those involved," the force said on X.
Earlier on Saturday, 82 far-right counter-protesters were arrested in Pimlico, central London, "to prevent a breach of the peace".
The force said those detained were "part of a large group of counter protestors we have been monitoring who have tried to reach the main protest march".
It followed a march by what police said were around 300,000 pro-Palestinian protesters through central London on Armistice Day – that a number of politicians had said should be called off.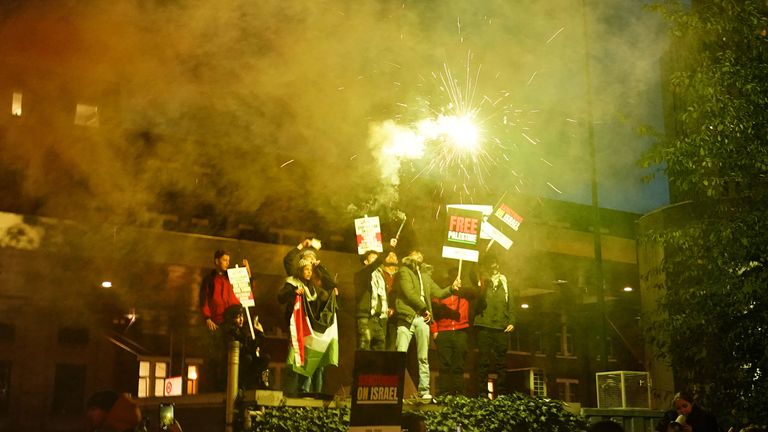 Police said 10 other arrests had been made for a range of offences, including possession of offensive weapons, affray and assaulting a police officer.
Prime Minister Rishi Sunak condemned what he called "violent and wholly unacceptable scenes we have seen today".
"What we have seen today does not defend the honour of our Armed Forces, but utterly disrespects them," he said in a statement posted on X.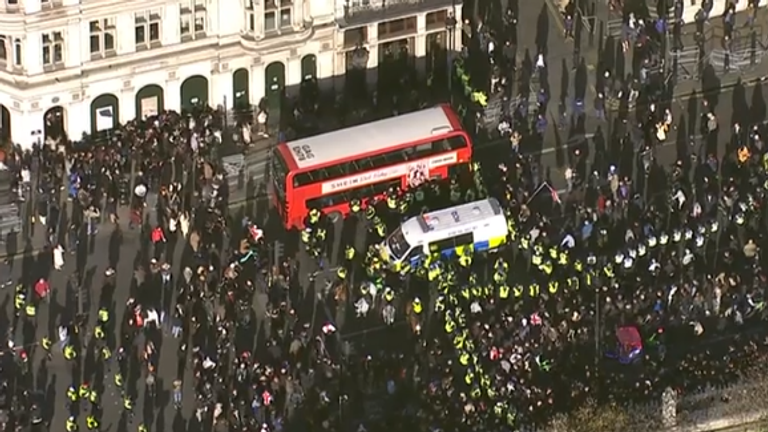 Mr Sunak branded far-right protesters "EDL (English Defence League) thugs" and also condemned individuals "singing antisemitic chants and brandishing pro-Hamas signs and clothing" during the pro-Palestinian march.
Read more:
Police 'actively looking' for individuals over antisemitic signs at pro-Palestinian march
"All criminality must be met with the full and swift force of the law," he said, adding that he plans to meet with Metropolitan Police commissioner Sir Mark Rowley in the coming days.
It comes after scuffles between police and a large mob of people, some of whom were carrying St George's flags along Embankment, and shouting "England 'til I die".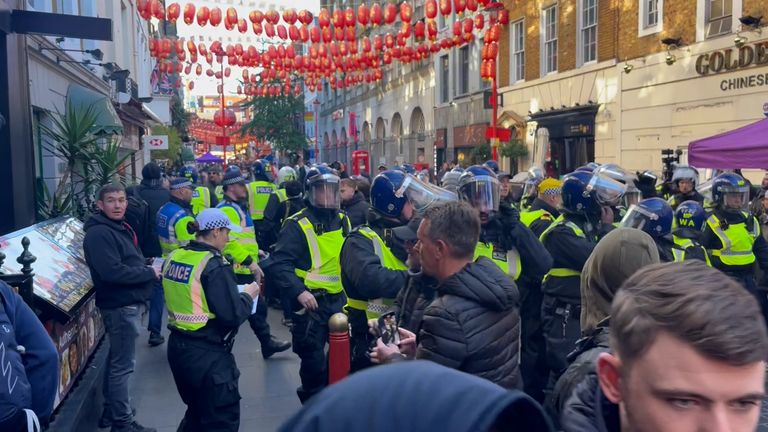 A line of officers attempted to stop them from reaching Whitehall but the group pushed through, with some shouting "let's have them" as officers responded with batons.
Bottles were also thrown at police by the counter-demonstrators, many of whom were wearing masks.
The confrontation happened shortly before the Armistice Day two-minute silence, when hundreds of people gathered at the Cenotaph to commemorate the UK's war dead at 11am.
The service passed off without incident.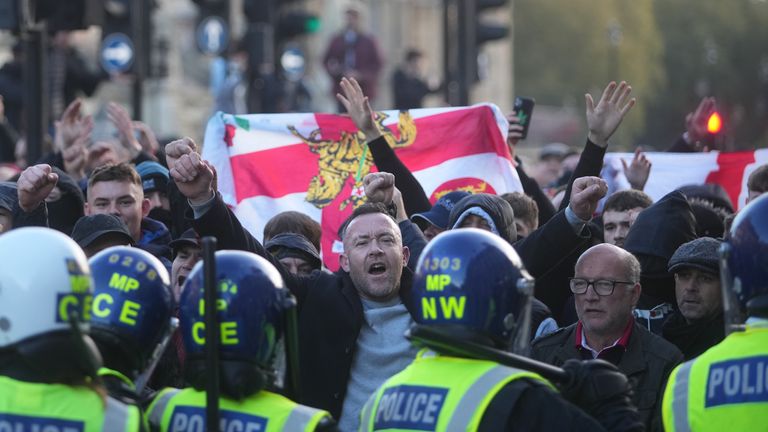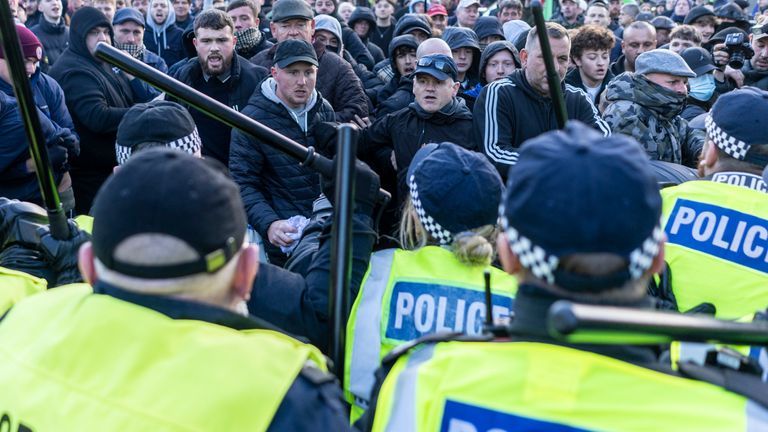 Stephen Yaxley-Lennon, also known as Tommy Robinson, the founder of the EDL, had called for his supporters to mass in the capital.
He was among the crowds along with former GB News presenter Calvin Robinson.
The Met Police posted on X, formerly Twitter: "While the two minutes' silence was marked respectfully and without incident on Whitehall, officers have faced aggression from counter-protesters who are in the area in significant numbers."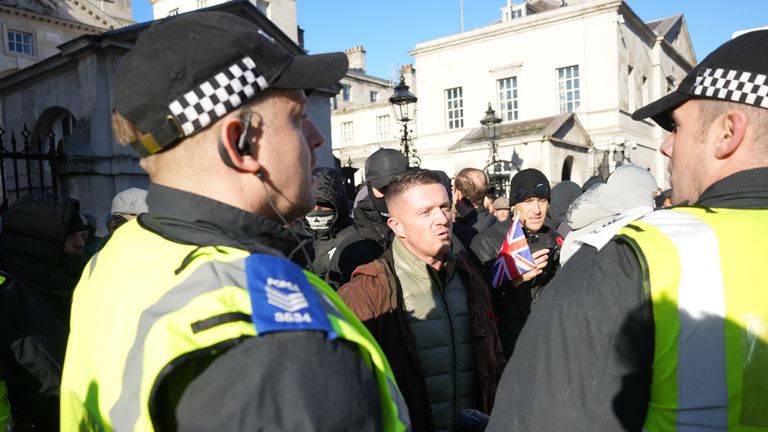 The force said it "will use all the powers and tactics available to us to prevent" the counter-protesters from confronting the main march calling for a ceasefire in Israel's war against the militant group Hamas.
There were later further clashes in Chinatown when missiles were thrown at police, while a "large group" were detained following trouble at Westminster Tube station.
It is understood the group of about 100 people were being held under powers to prevent a disturbance.
The main pro-Palestinian demonstration had drawn criticism from the prime minister and home secretary because it coincided with remembrance events.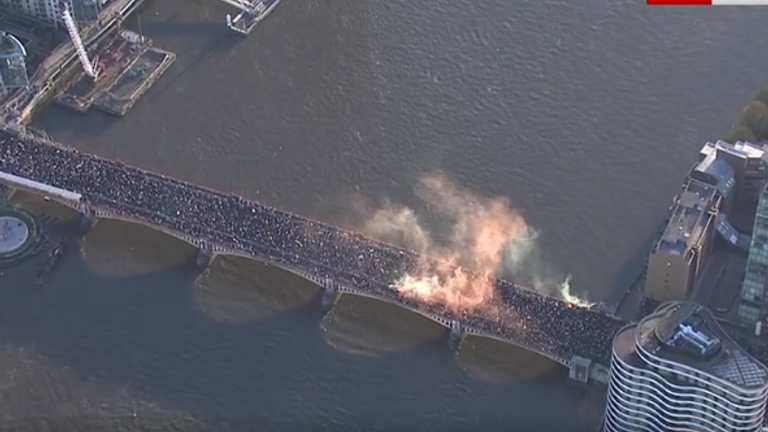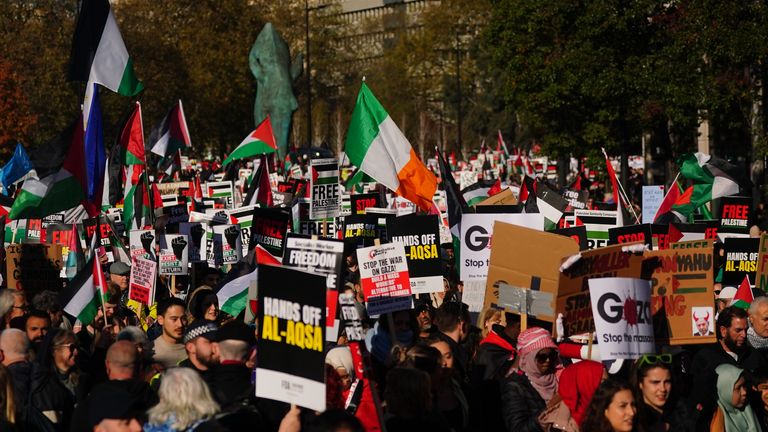 As protesters gathered at the start of the route at Hyde Park, chants of "from the river to the sea, Palestine will be free," could be heard.
The cry is viewed by many Jews as antisemitic, and is taken to mean a call for the eradication of Israel.
Others carried Palestinian flags and placards with slogans such as "free Palestine" and "end the siege", while chanting "ceasefire now".
'From the river to the sea' explained

Towards the end of the march, a number of pro-Palestinian protesters also staged a sit-in at Waterloo station, with a similar sit-in held briefly at Victoria station earlier in the afternoon.
The British Transport Police said no arrests were made.
More than 1,000 police officers were drafted in from outside forces to monitor the protests, with the Met saying 1,850 personnel will be on duty on Saturday and 1,375 on Sunday.
Suella Braverman had faced accusations of inflaming tensions after accusing the police of "playing favourites" when they resisted pressure to ban the march calling for a ceasefire in the Israel-Hamas conflict.
In the face of condemnation and calls for Mr Sunak to sack her, Mrs Braverman subsequently expressed her "full backing" for the Metropolitan Police at a meeting with Commissioner Sir Mark Rowley.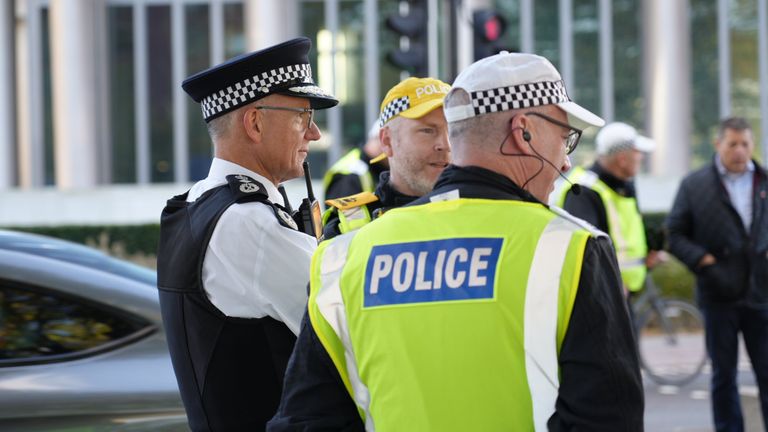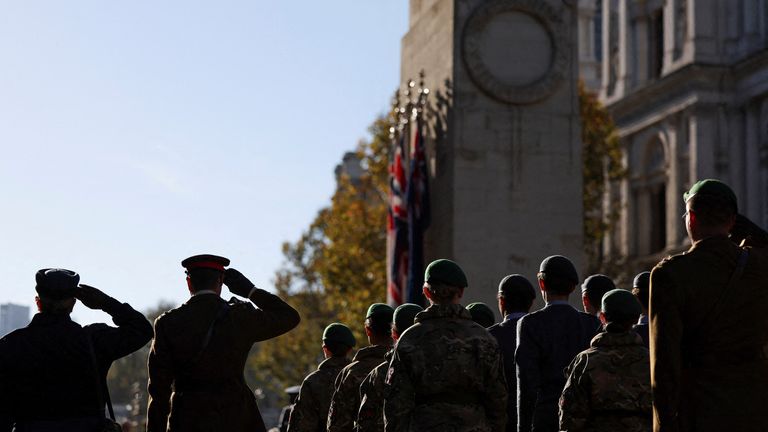 Labour's shadow home secretary Yvette Cooper took aim at the home secretary as she condemned the scenes of far-right violence and antisemitic hate during the day.
"Both violence and hate crimes must face the full force of the law," she said in a statement.
"Suella Braverman was warned repeatedly of the dangers of inflaming tensions and undermining the police.
"A home secretary that doesn't take seriously the security of our streets is only allowed to remain in a government that has lost all sense of governing. Britain is better than Rishi Sunak and his Cabinet."
Pro-Palestinian protests have also been held elsewhere in the UK, including Glasgow.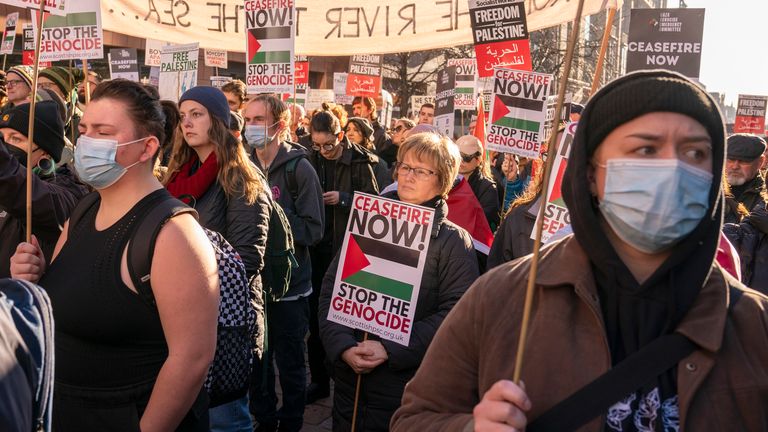 Police Scotland said five men and two women had been arrested at separate incidents linked to demonstrations in Glasgow city centre.