With the Samsung Galaxy Buds FE debuting, the South Korean company is giving its headphones range a Fan Edition for the very first time. What do the wireless in-ears with ANC that cost $99 have to offer? Find out in this detailed review.
Good
Good ANC

Fair price

Remains in place when worn

Extensive app

Decent battery life
Bad
No wireless charging support

Only IPX2-certification

Data-hungry app

App is meant for Android users only

Samsung Galaxy Buds FE: All deals
In a nutshell
The Samsung Galaxy Buds FE impressed me both visually and in terms of its audio quality. Their fins fit snugly in my ears and, for just a mite less than $100, they offer excellent active noise cancellation. The Wear/Galaxy Buds app continues to be comprehensive in nature, but is unfortunately available only for Android. Those using iPhones are left out in the cold.
People like me who sweat a lot might be a little unhappy with the IPX2 certification, which is good only for keeping out dripping water. The battery charges quickly and the buds last for more than six hours on a single charge without having to park them in the case. This is excellent, but it is a shame that inductive charging is not supported.
You can currently get the Samsung Galaxy Buds FE for $99 a pop, although Samsung has other offerings for in-ear accessories such as the Galaxy Buds 2 and Galaxy Buds 2 Pro that retail for $149.99 and $189.99, respectively. Rest assured, there's no cannibalization going on here.
Design

The Samsung Galaxy Buds FE are compact in-ears that offer both a comfortable and very firm hold. They are IPX2-certified and have touch controls.

---
Pros:
Good workmanship.
Pleasant design with clearly separated touch surface.
Very stable when worn.
Cons:
---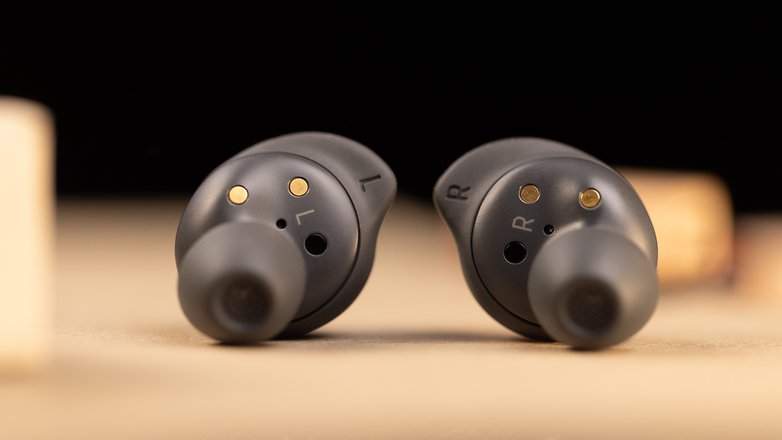 When I removed the earbuds from the rounded white charging case for the first time, I noticed the design immediately. I like this design better than the Galaxy Buds 2 Pro (review) as the Fan Edition marks the comeback of the "wing tips". These are tiny wings located on each earbud that we are already familiar with from the first Samsung Galaxy Buds (review), ensuring the earbuds remain firmly stuck in the ear.
I'll spare you the videos that you're used to from Antoine. Just trust me, they didn't fall out of my ears either during the living room pogo or during my daily round of walking through the pedestrian zone. At least in my Dumbo ears, the buds fit perfectly and are also very comfortable to wear. I even had them worn overnight in a bid to see whether they fall out when I sleep, which they remained in place all the way until dawn. It was then I realized I feel asleep while listening to the horror radio play "Larry Brent".
If the buds don't fit you so well at the beginning, that's nothing to worry about: rummaging through the packaging, you'll find alternative earplugs with three different tip sizes included. You can also get rid of the "wing tips" if you do not find them comfortable since there are also wingless rubber replacements in the package.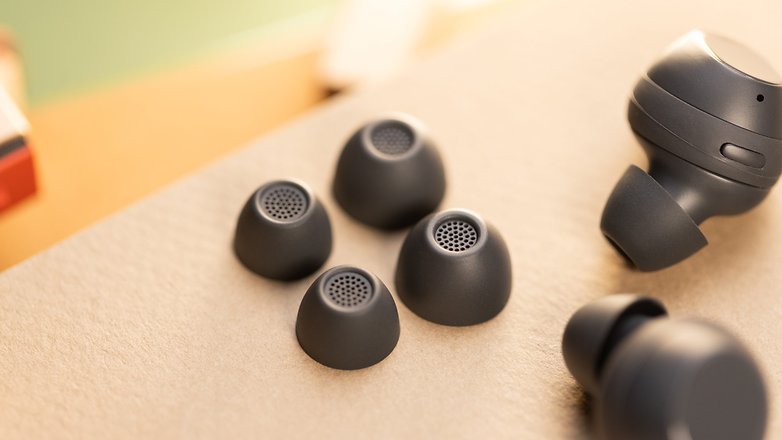 The Galaxy Buds FE are very well made and have a touch surface that stands out more clearly from the rest of the Galaxy Buds in recent memory. One major advantage of this for the user is how much for difficult it is for an incorrect input whenever you want to check the fit. You can choose between black and white colors, although the case comes only in white.
A word about the waterproof capability of the Galaxy Buds FE: unfortunately, the buds are only IPX2-certified. This means they don't like dirt one bit and can only accept moisture in the form of dripping water (if the earbuds are tilted up to 15 degrees). You should take this into account before you bravely go for a jog in the pouring rain.
Sound and ANC

With the Galaxy Buds FE, Samsung makes do with one driver instead of a two-way system. The sound is not brilliant, but it is decent and absolutely appropriate for this price range. Voice quality of the built-in microphone is manageable, but certainly not more disappointing than many of its competitors. The ANC worked exceptionally well.

---
Pros:
Well-functioning ANC.
Natural, mostly balanced sound.
Good (perhaps slightly overemphasized) bass.
Cons:
Usual mediocre voice quality for outgoing calls.
---
While Samsung normally relies on a two-way system for its earbuds, a single driver is called to task here. Thankfully, it does it well. Right away, the Galaxy Buds FE sounded rather balanced and natural to me. Now and again, however, the bass becomes a little too prominent. However, since I like that, Samsung must have gone along with my preference. Depending on your own preference and music genre, you should take a look at the Galaxy Wearable app and experiment a little with the equalizer to make the sound to your liking.
I enjoyed a rich sound when listening to music, podcasts, and radio plays, and thus am also happy with the volume level.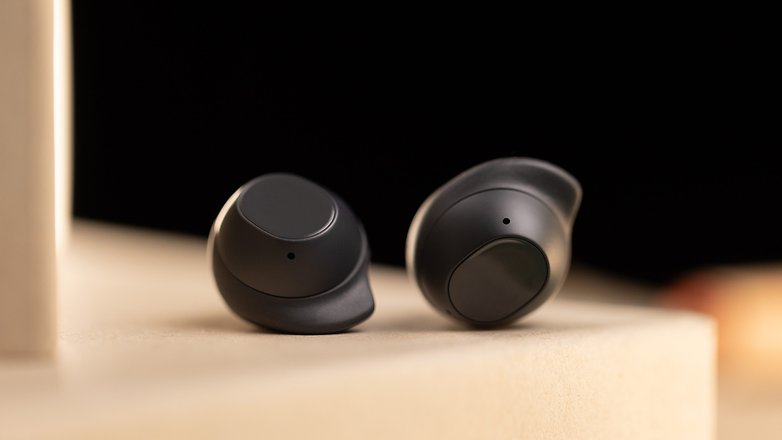 The active noise cancellation was frankly much better than I expected. Both snippets of conversation and traffic noise were reliably suppressed. In addition to ANC, there is also the "ambient sound" mode aka transparency mode, in case you still want to hear what's going on around you. I don't have a direct comparison with the other Galaxy Buds models right now, but I imagine that the ANC should be at least on par (or ear level?) with the ANC of the Pro models.
This is especially notable when it comes to the $100 price range, as there is absolutely nothing to criticize about such noise suppression quality if you were to ask me. In addition to the SBC and AAC codecs, the Galaxy Buds FE also supports Samsung's very own and somewhat exotic Scalable codec.
I have now gone through the overall impression of the sound somewhat benevolently, which of course I still continue to stand by. We also have to take into account that in-ears are always going to be a little weaker than over-ears in terms of performance, and models from the $300-$400 range would naturally sound crisper than the $99 earbuds from Samsung. However, and this is why I'm explicitly mentioning this once again, given what you paid, you'll be well served by Samsung here.
Speaking of metal: Let's talk briefly about the microphone quality. I sound a bit soft over the phone, which is a shame considering my deep, sexy voice that is full of bass. Nevertheless, I could be perfectly understood by the listener, and once again, for the price and in view of the competition, which often doesn't sound any better even at a more expensive price, Samsung's offering is an absolute winner.
Functions and app

You can control the Samsung Galaxy Buds FE via the touch surface on each earbud. The Galaxy Wearable app offers you extensive settings but only if you have an Android smartphone. iOS users are unfortunately left out in the cold.

---
Pros:
Comprehensive app.
Easy-to-use touch surfaces.
SmartThings Find supported.
Cons:
Volume control and ANC control are not possible simultaneously.
No iOS app.
Data-hungry app.
Some functions can only be used in the Galaxy walled garden.
---
Experience showed that with in-ears, you can get by without any instructions. When you take them out of the case and have your smartphone around, the FE buds are quickly and easily recognized. That was my experience with a non-Samsung phone.
I mention "non-Samsung phone" because some features, such as seamless device switching between two devices, only work with the Galaxy Buds FE if both Samsung devices are logged into the same Samsung account. Samsung made it unnecessarily complicated for us, but unfortunately, we already know that. To be more specific, not only compatible Galaxy smartphones or Galaxy tablets are required for automatic device switching, but they also need to run on at least Android 11 and One UI 3.1.
You can operate the buds using the pleasantly designed and hard-to-miss touch surfaces. Tapping once starts the song, tapping it again pauses it. If you were to hold down on the button longer, you can switch between ANC and Ambient modes. If you want to use features such as double and triple tap or assign the "long hold" gesture differently, you must first launch the app on your phone.
Incidentally, the Galaxy Wearable app alone is not adequate. I was immediately asked to download Galaxy Buds FE Manager, which is based on the Wearable app. From then on, it was child's play, because the app is both intuitively designed and functionally comprehensive. This is the case if you were to use an Android smartphone, as iPhone users will unfortunately have to remain outside the walled garden. Incidentally, I spent what felt like an eternity going through the required app permissions during setup. I have no idea why the app is so data-hungry.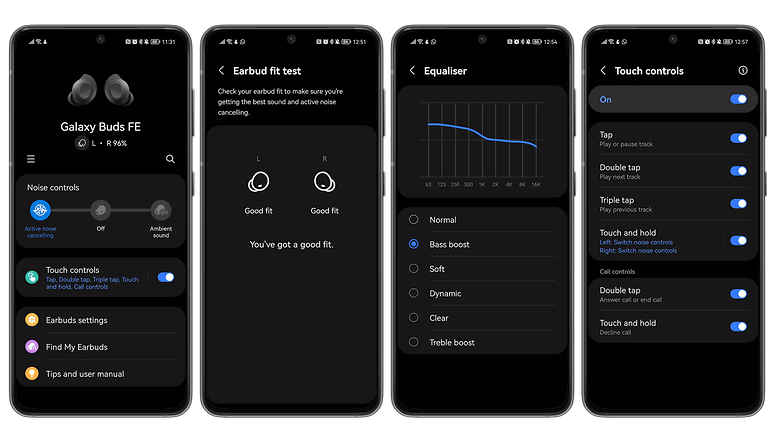 If you activate double and triple tap in the app, you can now also skip to the last or next song and adjust the volume. Unfortunately, you have to choose either one: You can either use the "long and hold" gesture to control ANC or the volume. You can't do both at the same time.
In addition to assigning touch gestures, you can do a lot more in the app. Of course, you can also switch ANC on or off here, locate your buds using "SmartThings Find" or check the perfect fit of the buds in your ears. There is also an equalizer that lets you choose between different settings.
Battery life and charging

The earbuds are supposed to last up to 30 hours including the charging case. In reality, we fell a little short of this, but the battery life is still decent. Unfortunately, wireless charging is not supported.

---
Pros:
Decent battery life.
Relatively fast charging.
Cons:
No wireless charging supported.
---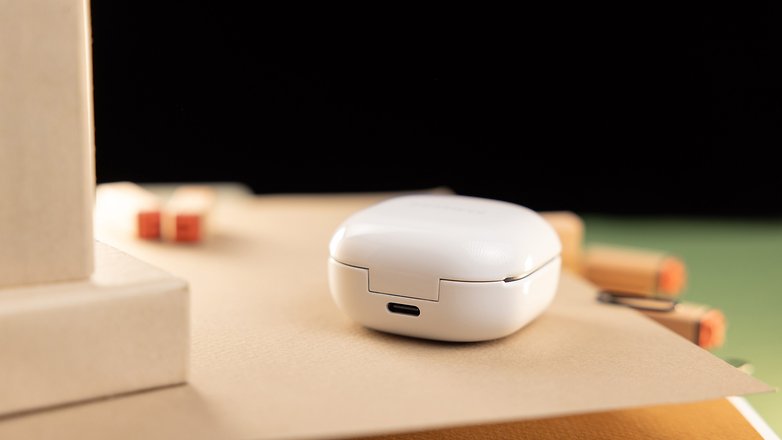 The earbuds themselves offer us a battery capacity of 60 mAh, while the charging case carries 479 mAh of juice. Battery life is not outstanding, but really decent if you ask me. Samsung goes out on a limb and says that it offers up to 21 hours with noise suppression activated. If you were to make do without ANC, it should even be able to touch 30 hours. Of course, this applies if you were to place the buds in the charging case and charge them again in between.
On a single charge, I actually achieved just over five hours with ANC enabled. Honestly, that's more than enough for me. Assume that you can charge these beasts about 2-2.5 times with the case. In the end, this will give you around 17-18 hours of use. Accordingly, you can add two to three hours without ANC, but that's just speculation on my part because I usually enable ANC in my rather short review period.
Until the buds are fully charged, allow a little more than an hour and a half and around 110 to 120 minutes until the case is fully charged. As I mentioned earlier, I can live with both very well, but I think it's a shame that the Qi standard is not supported by the Galaxy Buds. This means wireless charging is not an option at all.
Samsung Galaxy Buds FE technical specifications
 
Technical specifcations
Device

Samsung Galaxy Buds FE

Picture




design
Physical controls
IP57
Weight per earpiece: 5.6 g
Weight of the housing: 40 g
Dimensions of the earphones: 19.2 x 17.1 x 22.2 mm
Dimensions of the housing: 50.0 x 50.0 x 27.7 mm
ANC
✔️
6 microphones (3 per earpiece)
Transparency mode
Bluetooth
Bluetooth 5.2
Codecs: SBC, AAC, Samsung Scalable Codec
No multipoint
Battery life
Earphones: 60 mAh
Charging case: 479 mAh
Up to 8 hours of listening time without ANC
up to 6 hours of listening with ANC
up to 30 hours of listening pleasure with the charging case
10 minutes charging = 2 hours of listening pleasure
Price
$99 (MSRP)
Final verdict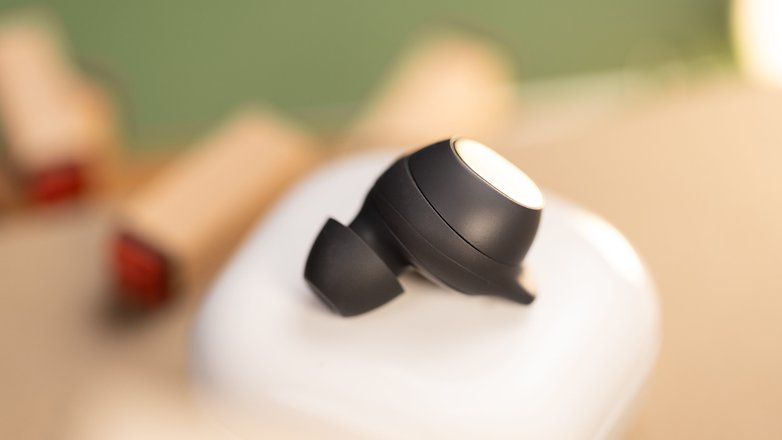 While I'm still wondering what to make of the other current Samsung Fan Edition devices, such as the Galaxy Tab S9 FE (+), which we recently reviewed, I really like the Galaxy Buds FE. For $99.99, you get an attractive (okay, a matter of taste) pair of earbuds that sound decent, have really good ANC, and does not disappoint in terms of battery life either.
The downside? The Galaxy Buds FE cannot be charged wirelessly, it has only IPX2 certification, the app is only available for Android, and I have to decide whether to use a gesture to adjust the volume or switch ANC on or off. If you can live with that, you get cool earbuds for less than a Benjamin, which also fit perfectly.