Top Stories
Sandro Tonali: Newcastle United do not know if AC Milan knew about gambling charges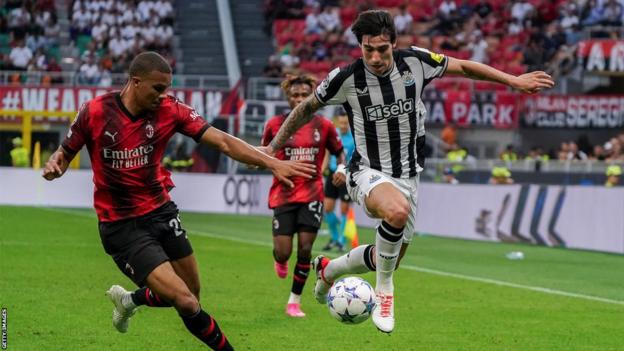 Newcastle United do not know if AC Milan were aware of the betting charges facing Sandro Tonali when they sold him to the Magpies this summer, according to sporting director Dan Ashworth.
"It's really difficult for me to get into what other clubs do or don't know," Ashworth said.
"All we can do is look at our own internal investigation and internal process. It's a really difficult question for me to answer – I just don't know.
"It was a massive shock, a massive surprise. Dealing with it was new to all of us. It came from nowhere."
BBC Sport has asked AC Milan whether they knew about the charges facing Tonali back in July and as awaits a response.
Tonali only made 12 appearances for Eddie Howe's side before the implementation of the ban, which will keep the Italy international out until the start of next season.
The federal prosecutor and Tonali agreed a plea bargain, meaning eight months of his ban will be commuted to "a therapeutic plan" to help "recovery from gambling addiction".
That will include Tonali making at least 16 public appearances in Italy, where he will be expected to speak to young players about the dangers of gambling.
Though unable to play in any matches, Tonali can train alongside his Newcastle team-mates during his ban.
Ashworth said: "Sandro will train with the team and stay connected to the team, maybe coming to watch games.
"It's important he feels a connected part of the club, it is important for his own mental health. [He] won't be spending a large amount of the time away from the club [in Italy].
"There's a regular program with some visits to Italy as part of the program. He will be going back for a day or two at time, but not for a month.
"He's back training. First and foremost, Sandro is a human being. Everyone in this room has done things we shouldn't have done or things we regret. Our first port of call is to look after and support him.
"It's probably more difficult for him than anyone else. We have a programme to support him and thankfully he's able to train with the team, which is great for his mental well-being. We're putting together a programme of what he can and can't do over the coming months to get him back flying in August."
Ashworth would not say whether Tonali's wages are being cut for the duration of his ban.
"Any player's contract situation is private and confidential," he said. "All I can say is that Sandro has been outstanding since this has happened and has been fully collaborative.
"Sandro is a top human being and this is a difficult situation for him to deal with. He feels that he has let himself down."
The Magpies sporting director says the club does not know if a direct replacement will be signed in the January transfer window for the second half of the season.
"We've got quite a number of midfield players and players who can play in different positions," he said. We've got a number of things we can do. It might not be a like-for-like replacement for Sandro.
"It could be a player who can play in a different position or multiple positions. It could be that young Lewis Miley gets more minutes and comes to the fore between now and January."




Source link