Top Stories
Sao Paulo Grand Prix: Max Verstappen takes pole position for Sunday's race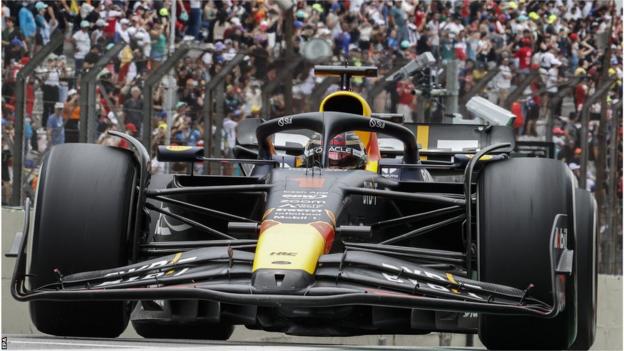 Red Bull's Max Verstappen beat Ferrari's Charles Leclerc to pole position in a rain-affected qualifying session at the Sao Paulo Grand Prix.
Aston Martin benefited from approaching rain, with Lance Stroll and Fernando Alonso taking third and fourth places.
Mercedes drivers Lewis Hamilton and George Russell locked out the third row with fifth and sixth places, ahead of McLaren's Lando Norris.
Ferrari's Carlos Sainz was eighth ahead of Red Bull's Sergio Perez.
The Mexican suffered because he was one of the last drivers out of the pits and Norris' team-mate Oscar Piastri spun at the final corner on to the pit straight in front of him, forcing the Red Bull driver to back off.
Leclerc described the session as "super-weird" as the only laps the drivers completed were on a dry track but were considerably slower than those they had managed in the previous session.
Leclerc added: "I've never experienced that in my career before. It felt like it was raining but there was no rain around.
"From Turn Four onwards, the car was extremely difficult to drive, there was no grip. I was thinking of coming into the pits but then I was on the front row."
Verstappen said: "Our laps felt terrible. I think the wind changed and started to be very strong."
Heavy rain did then start to fall, accompanied shortly afterwards by an electric storm, and the session was red-flagged with four minutes remaining, officials deciding not to restart it.
"It's night time," Alonso said, as the drivers returned to the pits.
For Stroll, it was by far his best qualifying result of the season as he beat Alonso by just 0.043secs, out-qualifying his illustrious team-mate for only the third time all season.
Stroll said: "The car was feeling good throughout the session. Q3 was really tricky, I had a few lock-ups and missed some apexes, but good enough for a top three."
It was a strong result and something of a relief for Aston Martin, whose form has slumped in recent races after a strong start to the season.
The changing conditions were typical of Brazil, where rain has often affected events at Sao Paulo's Interlagos circuit, a historic and charismatic venue which it was announced on Friday will be on the calendar until at least 2030 thanks to a new contract.
Ironically, a 15-minute delay to the start of the session, caused by the need to clear the track of dirt and debris, ensured the rain hit the session.
Without that, the whole hour would have been managed before the rain began to fall.




Source link