Top Stories
Shipping giant AP Moller-Maersk extends job cuts to 10,000 staff | Business News
The company behind a sixth of global container trade has revealed it now plans to cut 10,000 jobs as it faces increasingly choppy waters.
AP Moller-Maersk, which had already announced plans for 6,500 redundancies, reported the higher total on the back of a sharp drop in revenues and profits.
The sector, which enjoyed a boom during the pandemic, is now facing overcapacity due to slowing global trade in the current economic malaise.
That has hit prices while rising oil and other costs have also hit its bottom line.
Underlying earnings dropped to $1.9bn in the third quarter of the year from $10.9bn a year earlier.
Shares were down as much as 17% in the wake of the update.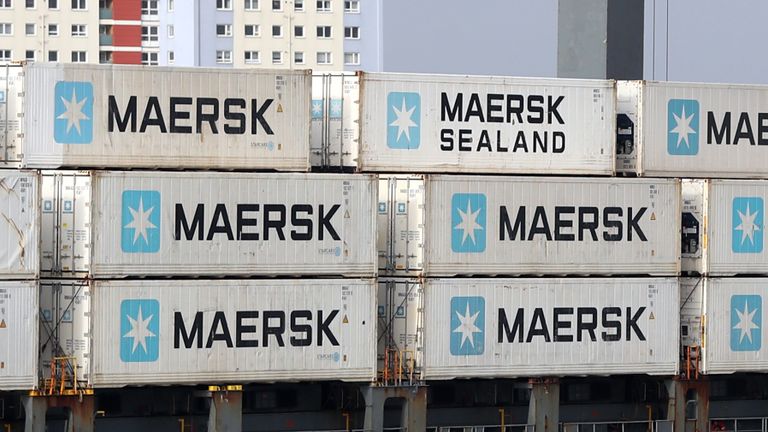 Chief executive Vincent Clerc said: "Our industry is facing a new normal with subdued demand, prices back in line with historical levels and inflationary pressure on our cost base.
"Since the summer, we have seen overcapacity across most regions triggering price drops and no noticeable uptick in ship recycling or idling," he said.
Read more business news:
Apple iPhone sale revenue reaches new record
Man Utd deal: Ratcliffe to unveil $300m investment alongside 25% stake
The hit to shares was explained by analysts as a lack of confidence in whether a share buyback programme would continue into 2014.
Maersk said it expected global container volumes in its ocean business, its largest segment, to fall by up to 2% this year.
The job cuts, it said, would result in savings next year of $600m.
Source link