Top Stories
Storm Ciaran: Dozens of flood warnings remain after rain and wind batters parts of UK | UK News
The threat of flooding remains after Storm Ciaran battered the south coast of England and the Channel Islands with gusts of up to 100mph on Thursday.
A total of 90 flood warnings are in place as of Friday morning as the UK deals with the storm's after-effects, with downpours and strong winds expected in Scotland and parts of northern England.
About 11,300 properties still had no electricity by 4pm on Thursday and almost 150,000 homes were left without power over the course of the day.
The Energy Networks Association said 135,700 homes have been reconnected, with power restored for 92% of customers affected by the storm.
"While difficult conditions remain, with violent winds forecast until the end of the day, teams from across the country are working together to continue to reconnect customers where it is safe to do so," a spokesperson added.
'I thought house would collapse' in storm

Floods minister Rebecca Pow said potential flooding risks remained across the UK with river levels still high, saturated ground and large waves at the coast.
Flood warnings mostly cover the south coast, but parts of East Anglia, the midlands and the northeast are also affected.
Residents in Jersey are urged to stay at home on Friday, with all schools still closed. The airport also remains shut – with only emergency flights allowed.
Five-day forecast where you are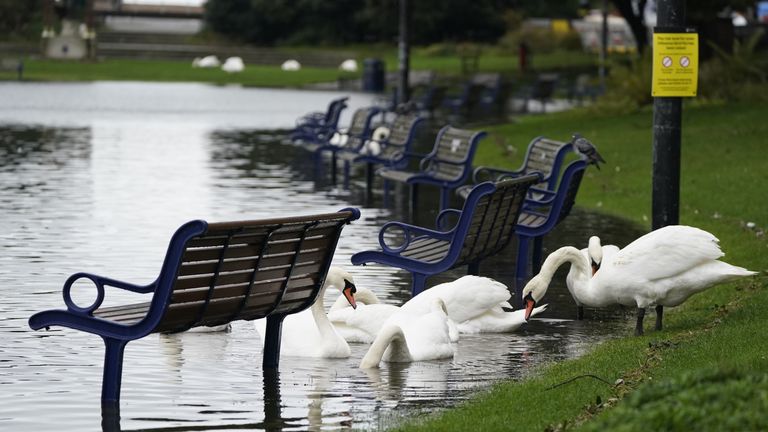 All schools in Guernsey and Alderney are open except for the College of Further Education, which suffered significant water damage.
Meanwhile, the Met Office has issued a yellow weather warning for eastern Scotland, warning of difficult driving conditions, delays or cancellations to train and bus services and a small chance of fast-flowing water or deep floods.
Damage in Jersey forced some residents to evacuate to a hotel, with one woman reporting hailstones "bigger than a golf ball" breaking her windows.
Read more:
Ground saturated like a wet sponge – and another storm is on the way
Storm-hit Jersey residents say impact is worse than Great Storm of 1987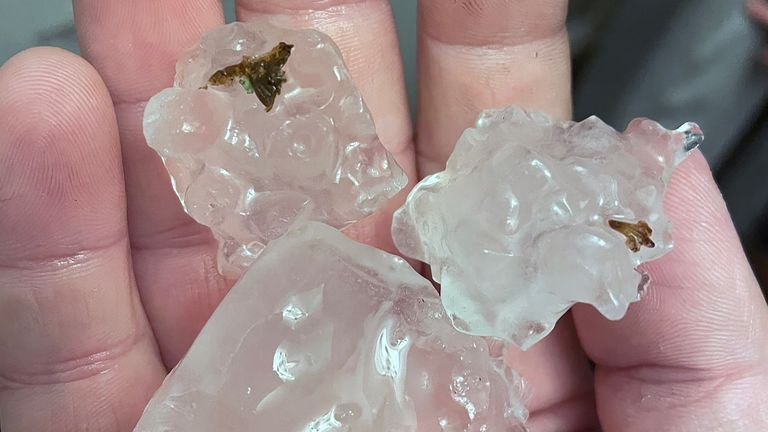 The Channel Islands endured "supercell thunderstorms", where locals faced large hailstones, frequent lightning and a possible hurricane, the Met Office said.
Met Office meteorologist Aidan McGivern said: "Hopefully the worst of it is now easing as it moves away.
"Ciaran is moving into the North Sea. It's weakening. It is filling but it's still bringing quite a blustery wind to many places."
Showers over weekend
Longer spells of rain will continue across northeast Scotland and parts of the Pennines later on Friday, but it will be quieter further south, Mr McGivern added.
The northwest will see showers over the weekend, as will northeast Scotland.
For Saturday afternoon and evening, a Met Office yellow warning covers southeast England, including Portsmouth and Brighton, with rain and gusty winds expected to cause travel disruption.
The AA, which had a large number of callouts in southern England, said on Thursday it had "rescued 84 customers stuck in flood so far today, with thousands more impacted by the weather".
Source link