Each week, the Android and iOS platforms come with a slew of apps and games to keep you occupied. So, let us do the heavy lifting having personally handpicked and tested out these 5 apps and games for you and hope you find them useful. 
This week features quite a diverse mix, from a to-do list to a game by Blizzard and more. Are you ready to check them out? Let's go!
Warcraft Rumble (Android & iOS)
It has been a while since Blizzard came out with another game. This time around, the company decided to milk one of its most loved franchises, Warcraft, where orcs and humans are joined by other races in the battle for supremacy. 
This mobile game happens within the confines of the Warcraft universe but takes on the form of your standard tower defense strategy type game. It feels like one of the Warcraft 3 mods at first, where you control miniatures from the Warcraft franchise.
As a long-time fan of the franchise, I found it cute, but the deceptively simple gameplay belies a deeper degree of strategy in the long run. As additional units appear to offer you more options, it made me think back to simpler days. 
It is not too steep a learning curve, which should not be an issue since I am quite sure many of us have been exposed to tower defense-style games, and diving into this should not be too much trouble. Overall, this seems to ride more on nostalgia than anything else, and it might serve as an introduction to those who have never played Warcraft before. Who knows? It might just ignite something in them to try out a classic.
Price: Free / Advertising: None / In-app purchases: Yes / Account required: No
As usual, in-app purchases are available for those who want to be able to progress faster. I am not crazy about rankings or climbing up the ladder, so doing what I can each day is more than enough to tide me by as a time-sink of a game. 
Moodistory (Android & iOS)
Do you ever feel like you are on a rollercoaster of emotions? I feel that way sometimes, and I tend to talk down on myself as well. I suppose it is an Asian thing, where 'you can always do better' is repeated so often, getting straight A's in exams is no big deal. Keeping track of my mood, makes it easier to figure out just how I have been feeling this particular week in an objective manner without letting my emotions take over.
Price: Free / Ads: None / In-app purchases: Yes / Account required: No
With Moodistory, I can choose each day, key in the type of motion I am feeling, as well as the location and event. I can tag it to different events based on a certain time, or key in a particular one if it is not listed. There is a scale of 6 different feelings, and it includes the type of drinks and food. You can then reflect on all that happens over time in order to have a more objective view of your emotions. I know it certainly made me feel better about myself, having experienced some nice events in my life over the past month. 
You can definitely do a whole lot more with the premium subscription. This is the thing, for someone who is already feeling down in the dumps, to ask them to fork out more money to gain access to features which will definitely help might not be the best thing to do. Still, it is cheaper than meeting a shrink, I guess.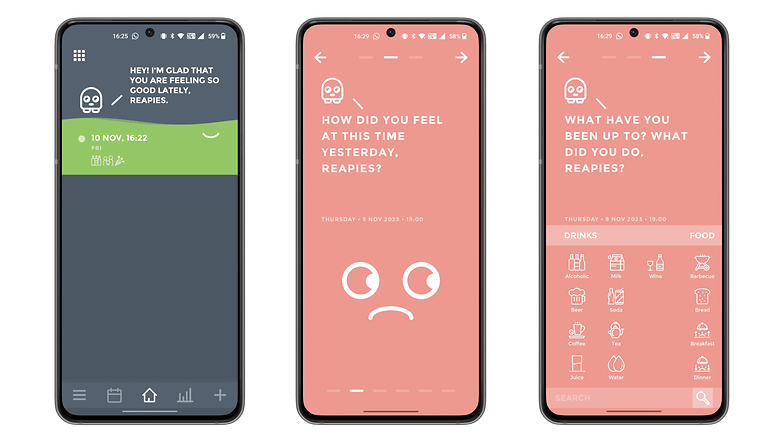 Note: A smartphone app cannot replace proper medical help. Whenever possible, always look for a certified professional.
Pocket Casts (Android & iOS)
I know, old can be gold sometimes. Pocket Casts has been around for some time, but it continues to remain one of the most popular podcast apps in the market. I clearly remember being upset some years back when the developer decided to transform it into a subscription model, as I was dirt poor then (as I am now). Now, Pocket Casts is still a refined experience.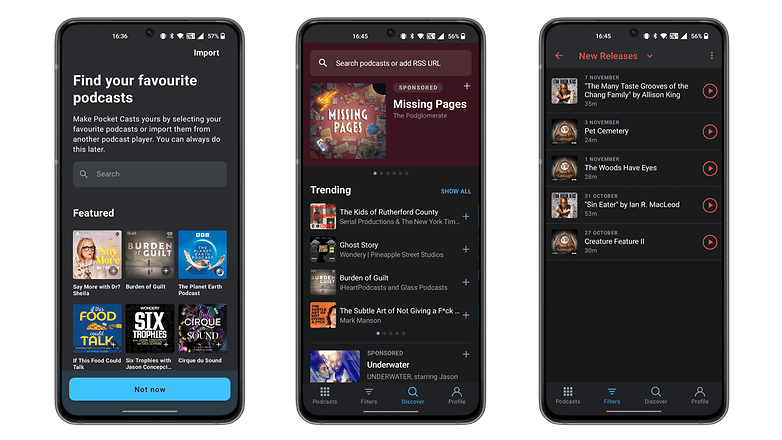 Price: Free / Ads: None / In-app purchases: Yes / Account required: Yes
Launching the app, you can dive right in with the ability to import your favorite podcasts from Castbox or other apps. Alternatively, you can perform a search for the different podcast channels that you like. While featured podcasts might offer something new, you can always check out whatever else is trending or based on the genres that interest you. 
Overall, this app works well for those who tend to listen to a lot more podcasts than the average Joe. The casual listener needs to pay for a subscription, but if you want something with more features and access to additional items, then forking out the $39.99 annual subscription fee might be worth doing so.
Poweramp Music Player (Android & iOS)
I remember back in the day when I actually saved up money to buy an MP3 player. Any MP3 player would do, it was what all the cool kids would have, forgetting about the Walkman and the Discman. Then came along Napster, the place where I obtained all my MP3s, and ripped songs from my personal CD collection through Winamp. While music streaming is the de facto vehicle for those listening to music on the go these days, there are some of us who still prefer MP3s on our devices.
Price: Free / Ads: None / In-app purchases: Yes  / Account required: No 
Enter the Poweramp Music Player. It is a very simple app to use, where you must first make sure your MP3 files are stored in a certain place before you access them. From there, you can play with the visualization as well as audio settings, and even categorize them according to their music genre, the works.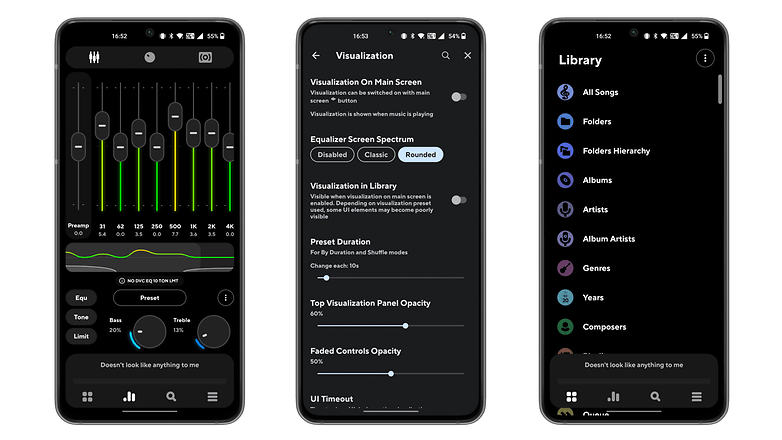 Anyone who has used Spotify or Tidal or something similar would certainly be able to figure out how to use Poweramp right from the get-go. Of course, the paid version will grant you access to a whole new degree of features and functions. It is a small amount to pay ($3.99 a pop), so it should not be too much issue. 
TickTick (Android & iOS)
I have always relied on lists in my life for as long as I can remember. A grocery shopping list, a "to bring" list for holidays, a "to do" list over a long weekend, the list is endless (heh!). TickTick ticks all the right boxes (I did it again, sorry!) by letting you draw different lists and ensuring you stick to them.
Personally, I found the habit tracker to be most useful. I could choose from so many different habits, including drinking water, having breakfast, waking up early, sleeping early, and even reading. All of these will help me stay on track, but of course, a lot of it also depends on my personal drive for growth. You can have the best tools but if you still resist, it all amounts to nothing. 
Price: Free / Ads: None / In-app purchases: Yes ($3.99-$35.99) / Account required: Yes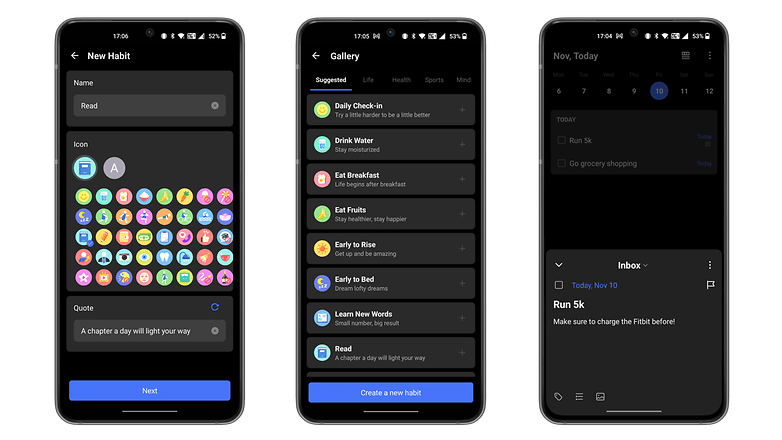 Long having migrated from paper and pen to digital lists, TickTick makes everything so accessible. The only downside that I see to this is not for the lack of versatility, but more of its most useful features being locked behind a paywall. For instance, you cannot get a monthly view unless you upgrade to a premium account. If you are serious about lists, this is a small price to pay.
Now that we have arrived at the end of our five favorite apps this week, the nextpit editorial team is curious to know which of the listed apps above managed to catch your attention? Do you think there is an existing trending app that we should have featured? Share your recommendations with us in the comments!