Top Stories
'We are being ignored': Rishi Sunak urged to prioritise case of jailed writer Alaa Abd El-Fattah | Climate News
Rishi Sunak has been urged to deliver on a promise to get jailed British writer Alaa Abd el-Fattah released from an Egyptian prison, where he has been denied access to a lawyer or the British consulate.
Monday will mark a year since the PM said he was "totally committed" to resolving the case of Alaa Abd el-Fattah, the pro-democracy writer who has spent most of the past 10 years in prison, accused of spreading false news.
The prime minister wrote to the family ahead of the COP27 climate summit in Egypt, saying Alaa "remains a priority for the British government, both as a human rights defender and as a British national".
The conference drew international condemnation of Alaa's imprisonment, with US President Joe Biden using it to raise the case with Egypt's authoritarian president, Abdel Fattah El-Sisi.
But Alaa's sister Sanaa Seif said her brother "still languishes in prison", and the British Consulate is still being refused access by Egyptian officials.
"It's time for the prime minister to deliver on his promise, or to at least show that he's trying," Ms Seif told Sky News.
"That heart-warming and hopeful feeling back then, when I got a letter from the prime minister – it's no longer there, because it's been a year, nothing has happened."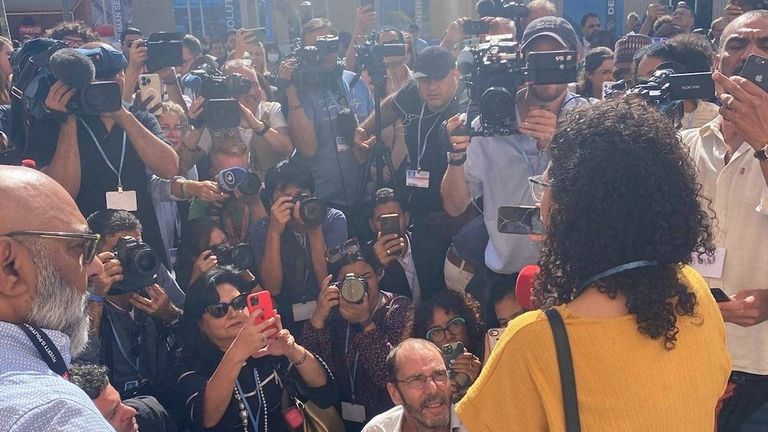 A spokesperson for the Foreign Office said: "Our priority remains securing consular access to Mr el-Fattah and his release. We continue to raise his case at the highest levels of the Egyptian Government."
Sky News understands Foreign Secretary James Cleverly last raised the case with Egyptian Foreign Minister Sameh Shoukry on 18 September, and other ministers have also pressed Egyptian officials in the last year.
Although Alaa's prison conditions have improved since COP27 – he is now allowed sunlight, time outside and a TV – he remains in prison with no legal or consular access.
Fresh calls in a letter from MPs in July went broadly unanswered.
UK officials simply 'managing our rage'
"We feel ignored," Ms Seif added, saying it seemed foreign office staff appeared rather to be "managing our rage, our frustration" than having a mandate to achieve much.
Richard Ratcliffe, who doggedly campaigned for six years for the release of his wife Nazanin Zaghari-Ratcliffe from an Iranian prison, said it is "disappointing after an advocacy high point when a year later you realise nothing has moved".
"It always means that the government hasn't pushed that hard, and the family needs to find a new way to climb the priorities again."
Ms Seif is ramping up campaigning this month, planning media interviews, a letter to the prime minister and a London event with writers' charity PEN International.
But she fears the war in Gaza and "dehumanisation" of Arab people by politicians and the media will make it even harder to secure her brother's release.
"The whole debate around whether we should be calling for a ceasefire or not basically means that these Palestinian civilian lives are not as worth saving as others," she said.
"It's making me question if [UK politicians] people will ever do any good for us because I'm also Arab."
Sister fears brother will die in prison

Mr Ratcliffe said that during current conversations between the UK and Egypt about the war in Gaza, the UK is also "signalling to Egypt how much Alaa means to them".
"For Alaa to come home soon, the UK needs to make him a priority in all those conversations. Clearly, that hasn't happened this past year."
Source link