The power structure inside Xiaomi's flagship line has shifted – in a poll last year the Xiaomi 13 Pro was the more popular model when compared to its vanilla sibling. Fast forward to last week's poll and you'll find that more people are looking at the vanilla Xiaomi 14 than the Pro.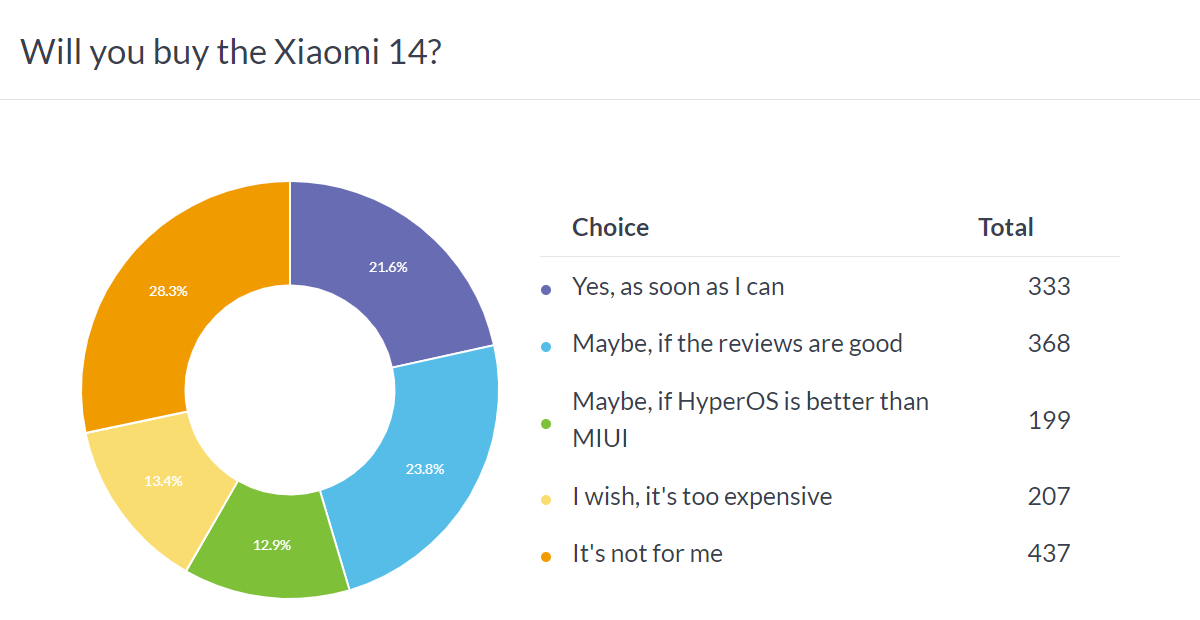 In both cases, reviews will be a major deciding factor – people are especially curious about the new HyperOS that arrives to replace the stalwart MIUI, which has been around since before Xiaomi started making phones. This is an important change since MIUI has plenty of critics and HyperOS is a chance to win them over.
Pricing is another big concern – we can only guess how much these 14-series will cost outside of China. In fact, this is a key factor that pushed the smaller Xiaomi 14 above its bigger brother. As we noted in last week's post, the two phones have nearly identical features, once you account for the size. Why pay extra for the Xiaomi 14 Pro?
To get the bigger screen, of course, but some found it too big – and some aren't fans of its curved shape. Maybe making the two models quite so similar was a mistake. Last year, the Pro phone stood out with the better camera and an LTPO screen panel. This year the camera is nearly the same (it's just the variable aperture that's missing) and both displays are LTPO panels.
So unless you really want a large phone, the vanilla model looks to be the better pick. For both to succeed, HyperOS will have to prove itself – it has big shoes to fill as MIUI helped the company grow. And judging by all the complaints in the comments about it, it is now holding the company back. Change is good.